The Coupe
Electric Cargo Bike
You Save: $361 through 1/31
The Coupe + Dog-Friendly Accessories
You Save: $317 through 1/31
The Coupe + Accessories and Maxi-Cosi Adapter
You Save: $400 through 1/31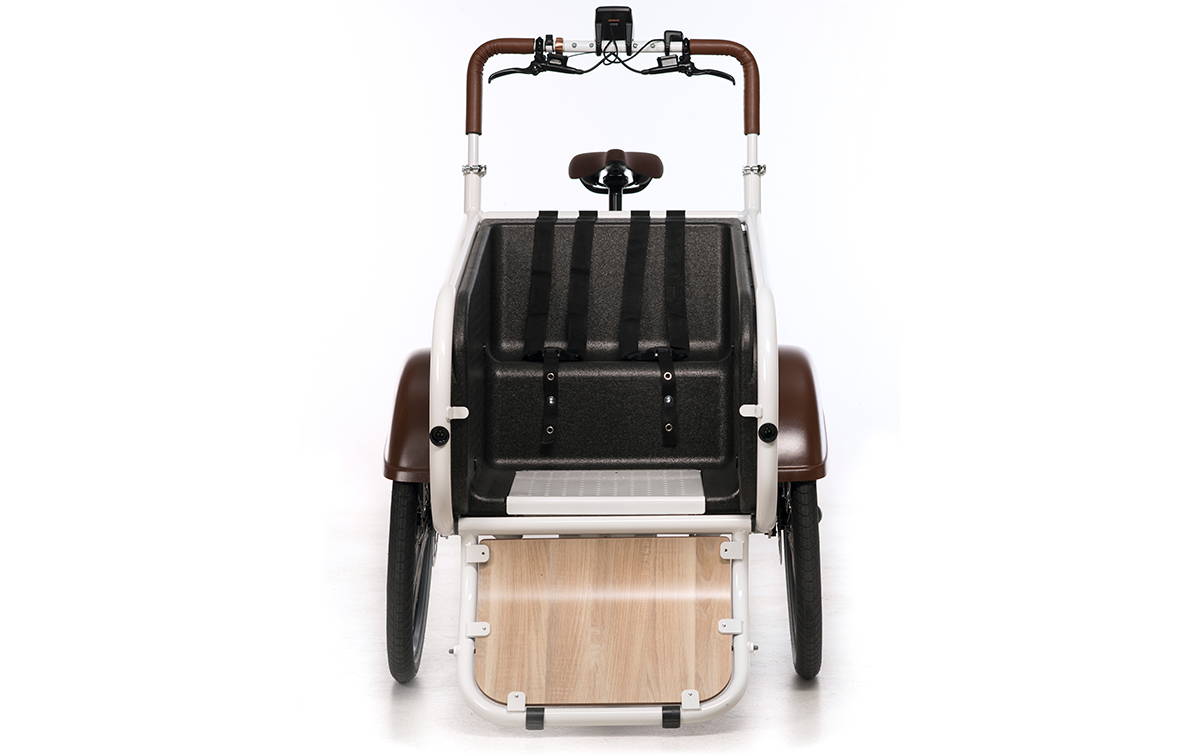 Good Things Come in Small Packages
Designed for dog owners and families with 1-2 kids who want the stability of 3 wheels, without the excess size and weight of a traditional cargo trike. The Coupe is all the bike you need, and none of what you don't.

Near-silent electric mid-motor


Up to 75 miles range per charge


Fits through any standard door

Fenders with finger protection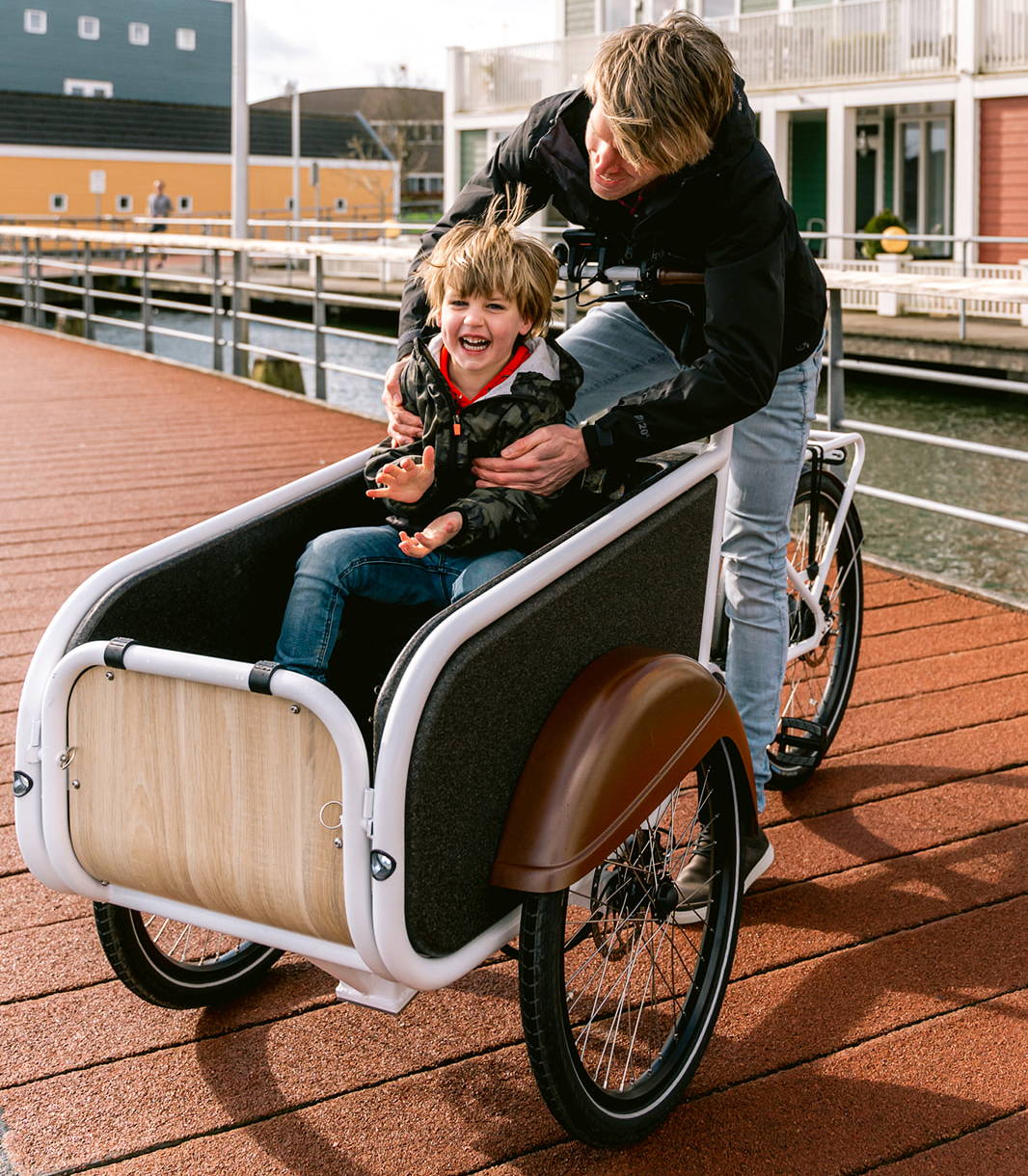 Elegant Design. Quality Craftsmanship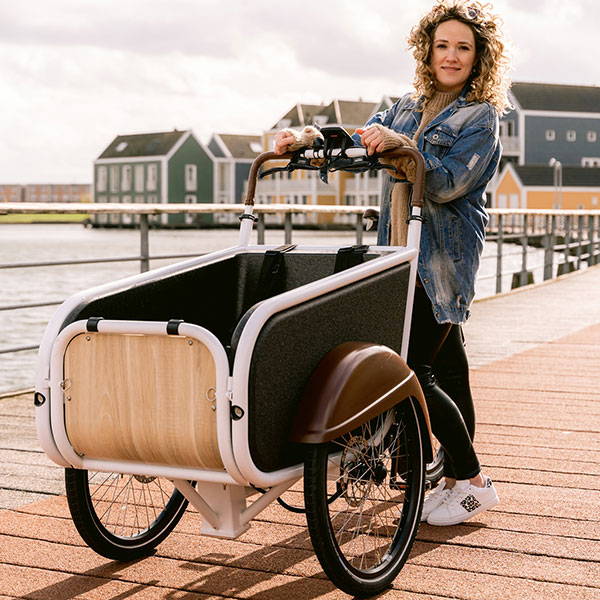 The floating curves and sophisticated combination of materials give The Coupe a distinctive appearance that captures your attention.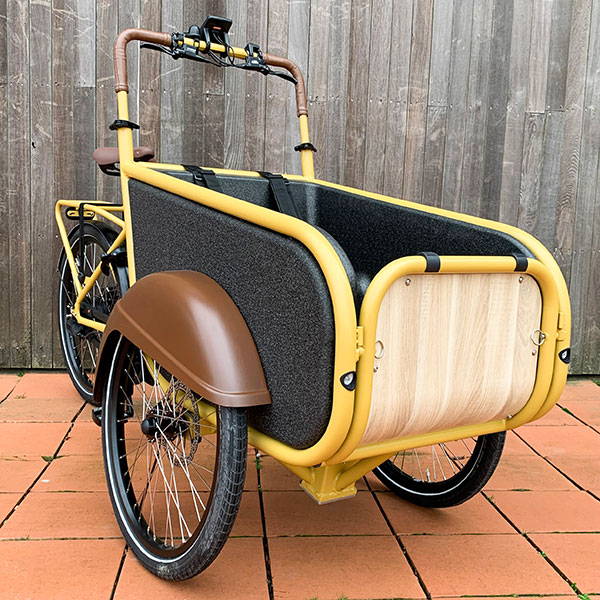 Choose between 4 standard color options for the frame which, in combination with the subtle brown accents and front door paneling, result in an iconic look.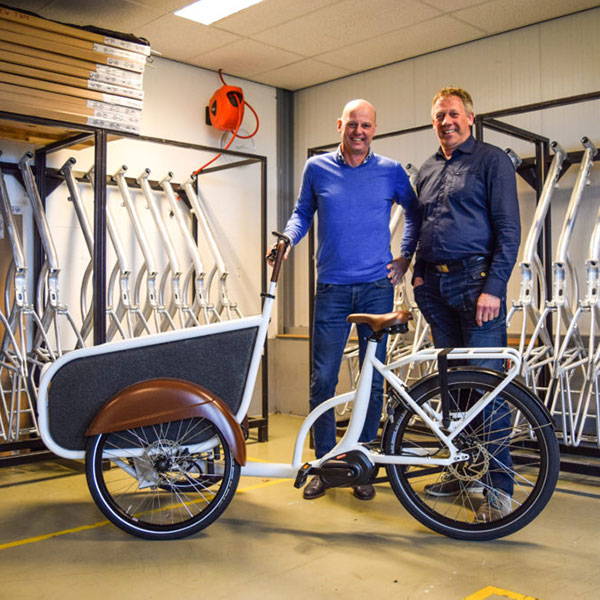 Each bike is built with care in The Netherlands, the bike capital of the world, ensuring a remarkably high quality standard and attention to detail.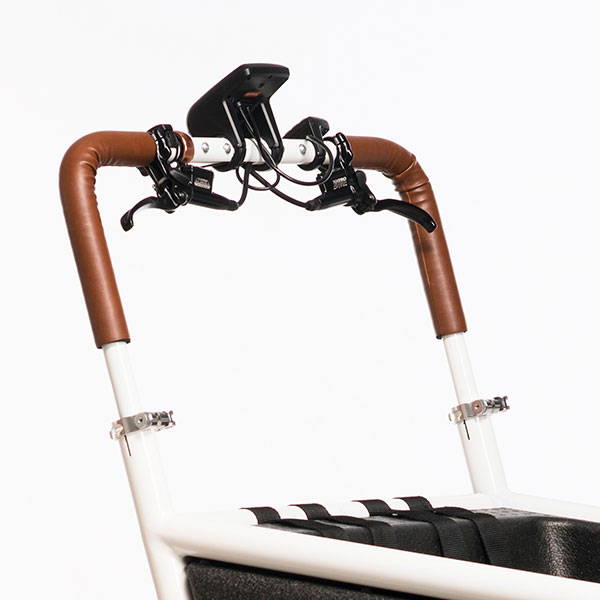 With wires and cables hidden in the frame and handlebars, and the battery discreetly tucked underneath the cargo box, you can barely tell The Coupe is electric.
Advanced Tech for Effortless Riding
Bafang Electric Mid-Motor
The near-silent Bafang M400 mid-motor will have you breezing over hills with a robust 80Nm of torque. The motor feels natural as it seamlessly responds to your pedaling, for a ride that is superior to bikes with rear hub motors.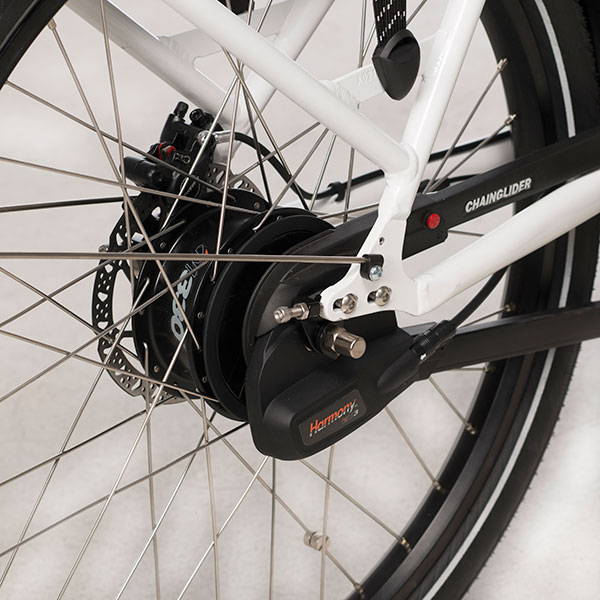 Nuvinci Hub with Auto-Shifting
The Enviolo CT stepless automatic system is a joy to use, as you are always in the perfect gear, no shifting required. In addition to being a joy to ride, the NuVinci CVT technology maximizes both battery efficiency and range.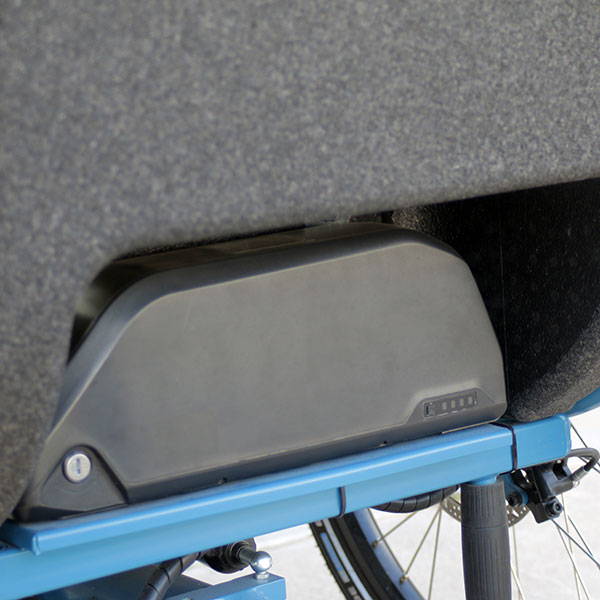 At up to 75 miles, The Coupe has one of the largest ranges of any cargo trike on the market. The 720Wh, 20Ah battery quickly charges from empty to full in just 2-3 hours, via the 4A charger.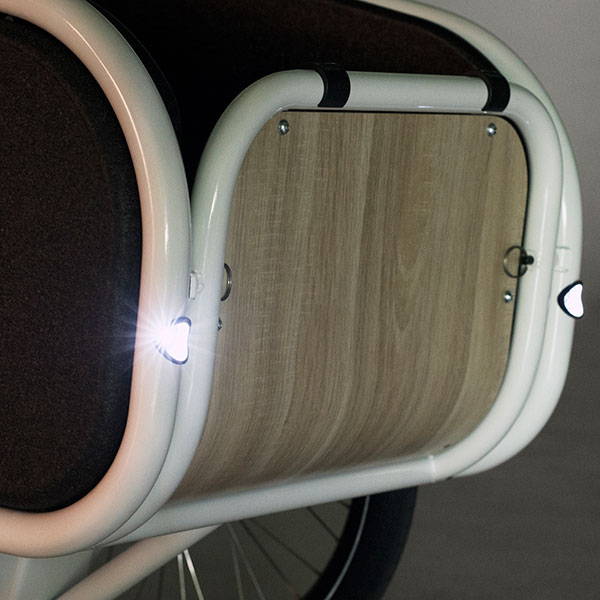 Frame-Integrated Headlights
Always be seen. The twin head lights are impact resistant and built right into the frame. The daylight sensors automatically activate both the front and rear lights in low-light conditions.
Designed with Safety in Mind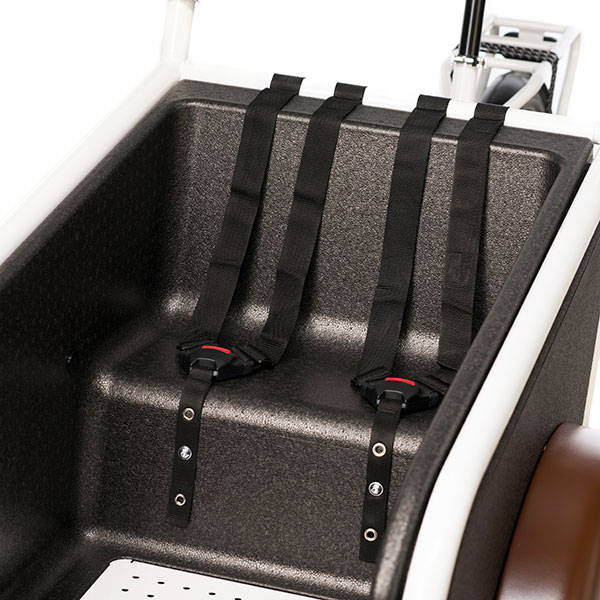 The Coupe is the only cargo trike in the world with a cargo box made of expanded polypropylene (EPP), the same lightweight and impact-resistant that infant car seats are made out of.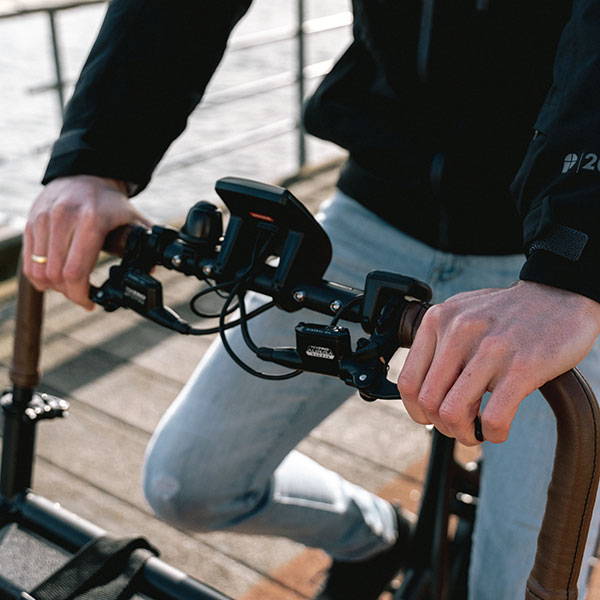 Tektro Hydraulic Disc Brakes
The powerful Tektro hydraulic brakes allow you to stop in an instant and include a parking brake to keep the bike secure and stationary while loading.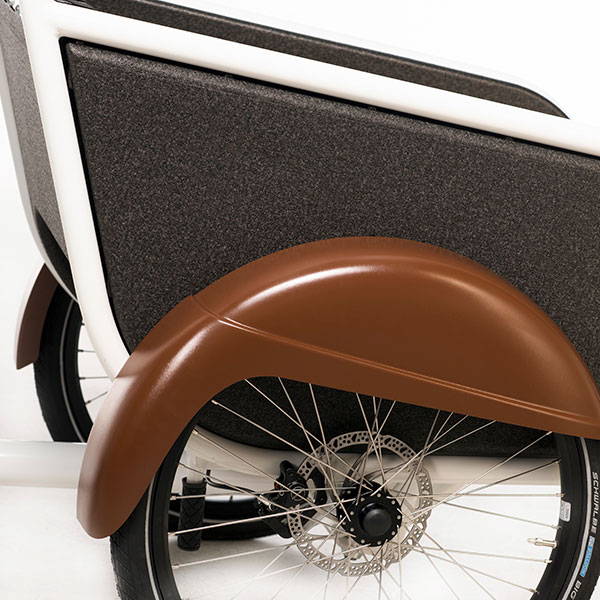 Fenders with Finger Protection
Keep your children's wandering hands out of danger with the custom fenders featuring side-coverage finger protection.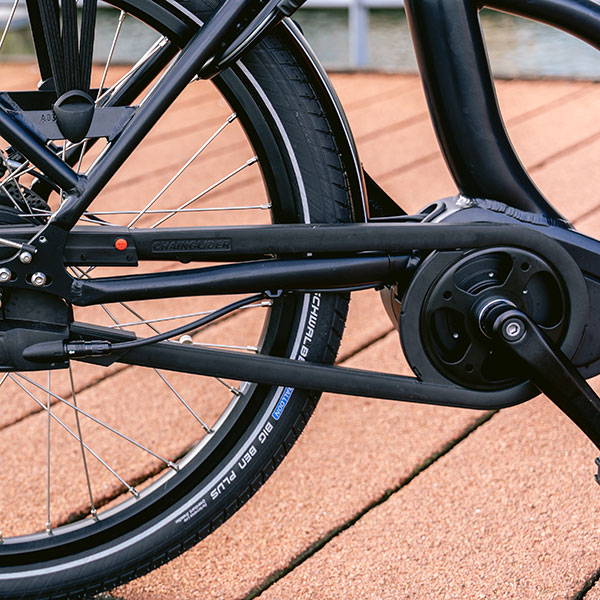 The Hebie Chainglider keeps your chain completely contained, preventing long skirts and loose pants from getting caught and keeping the chain free of dirt and grime.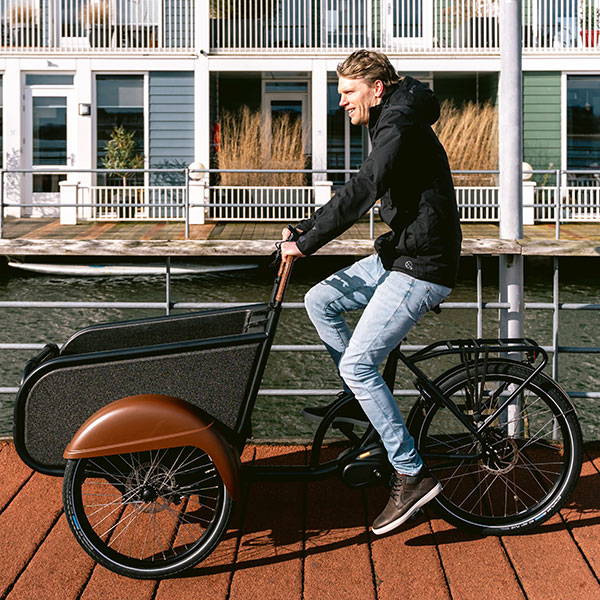 Low-Step Frame. Upright Seating
The low step-over height makes the bike easy to get on and off, so you can dress for the destination. The upright seating position gives you a casual riding posture and a better view of the world around you.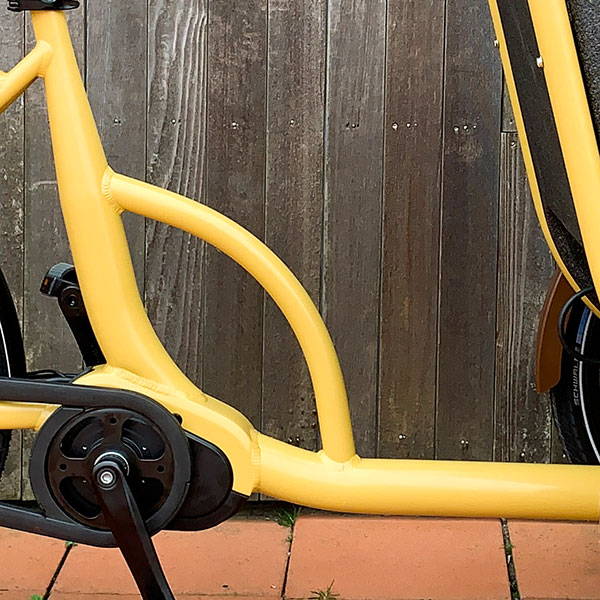 Lightweight Aluminum Frame
The aluminum frame is both durable and lightweight. At 130 pounds, the bike is lighter than steel-framed bikes with wooden cargo boxes, and you can feel the difference!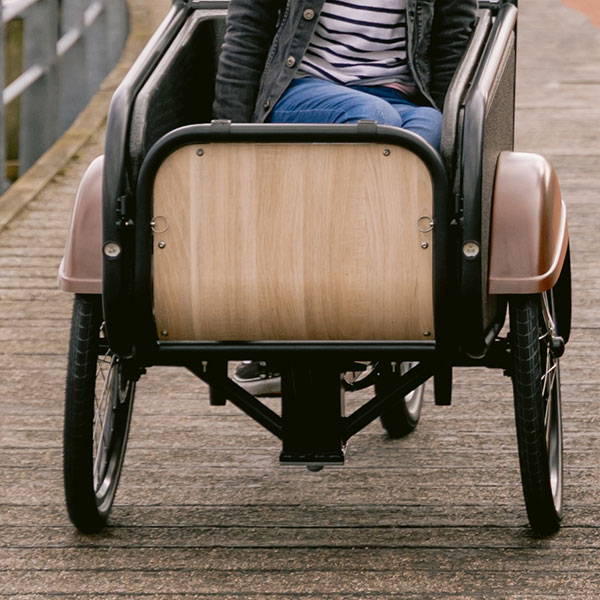 The front wheels are tilted inwards to keep the bike grounded and stable, allowing you to make turns with confidence.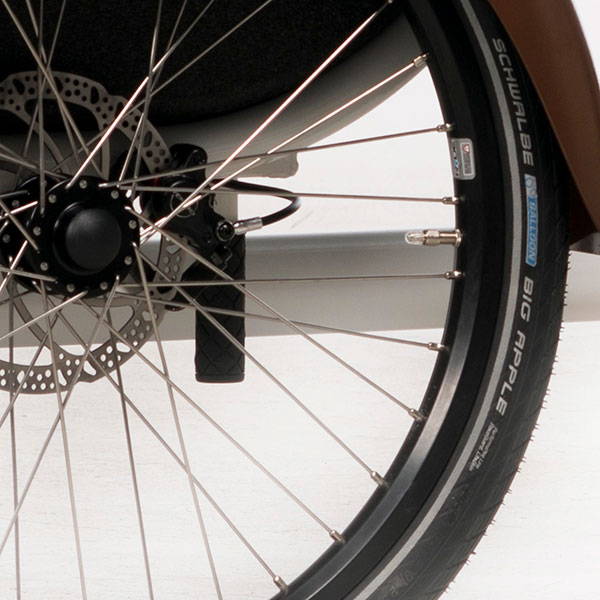 Schwalbe Big Apple Plus Tires
The Big Apple's proprietary "balloonbike" technology provides a comfort-enhancing suspension effect, keeping both you and the kids happy on bumpy roads, while also being super tough and flat-resistant.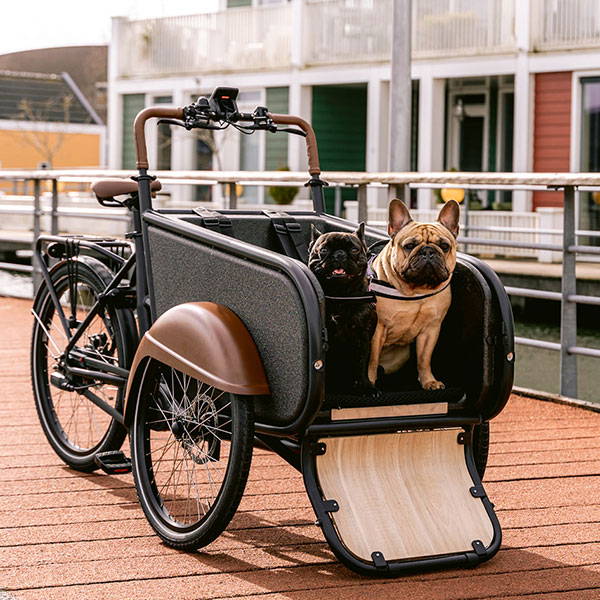 The front door allows you to easily load up kids or dogs and comes in handy for unloading big grocery bags. For businesses, the door can be branded with a vinyl wrap, contact us for details.
The rear rack is solidly welded to the frame, giving you 100 pounds of carrying capacity for bags, baskets, or an additional child seat.
Safely secure your little one with the optional Maxi-Cosi mounting attachment. And easily transfer them from bike to inside without waking them up from a nap.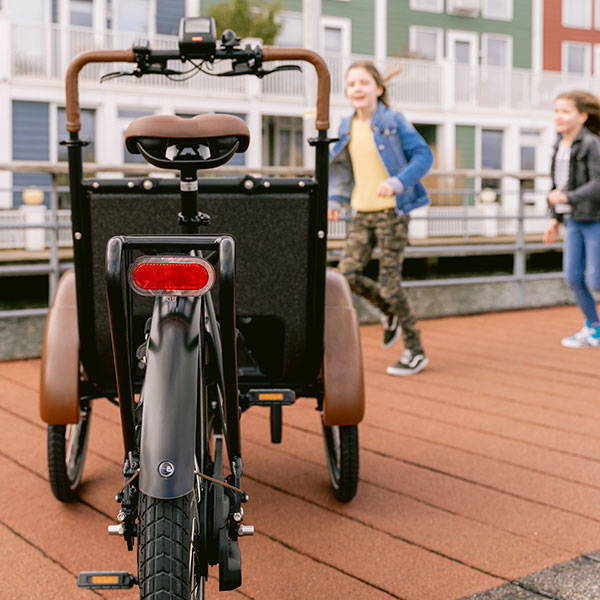 At 31.5" wide, The Coupe conveniently fits through any standard door or backyard gate, making this bike easy to park and stow.
Battery
36v 20Ah Li-ion - 720 Wh, Samsung 35E Cells
Battery Charger
36v 4A Smart Charger
Brakes - Front
Tektro Auriga E-Twin HD-T525
Brakes - Rear
Tektro Auriga E-Tune HD-T530
Brake Rotors
Tektro 180mm front and 160mm rear
Cargo Box
Expanded Polypropylene (EPP) shock absorbing
Chain
KMC 8-H
Chainguard
Hebie Chainglider
Crankset
Bafang AC08-2 - 170mm
Fender - Rear
Curana CLite 26"
Fender - Front
Bunch plastic fender with finger protection - brown
Frame
Rear - Aluminum
Front - Electrolytically galvanized steel
Lights
Front - 2 front frame-integrated LEDs
Rear - Spanninga Elips
Motor
Bafang MAX M400 mid-engine, 250w, 80 Nm
Pedals
Union Sp-2828
Rims
Ryde Andra 40 Double Wall
Saddle
Selle San Remo, Monaco
Seatpost
Ergotech 27.2mm x 320mm Black
Shifter
Enviolo stepless automatic shifting
Spokes
13-gauge stainless steel
Steering Damper
Single gas-spring damper
Rear Hub, Internal Gear
Enviolo CT City
Rear Rack
Rear Frame Integrated, 100-pound load limit
Rear Wheel Frame Lock
Abus Shield 5650L
Tires
Front - Schwalbe Big Apple Plus, 50-507 - 24 x 2.00
Rear - Schwalbe Big Apple Plus, 55-559 - 26 x 2.15
Recommended Rider Heights
5'5" - 6'5"
Seat Height
31.5" - 39.5" (measured from bottom of pedal stroke)
Handlebar Height
46" - 49"
Total Length
83.5"
Width at Widest Point (Fender to Fender)
31.5"
Handlebar Width
23"
Rear Rack Length
15"
Rear Rack Capacity
99 lbs.
Total Loading Capacity of Bike
350 lbs.
Bike Weight
132 lbs.
Seatpost Diameter
27.2 mm
Cargo Box Internal Width
18.5"
Cargo Box EPP Wall Thickness
2.75"
Cargo Box Length
36"
Cargo Box Height
14" at the front to 18" near the handlebars
Bench Height from Floor
8"
Height from Ground to Floor of Box
15"
"The Coupe is definitely a couple steps up in terms of craftsmanship compared to anything like this I've ridden before"
- Micah Toll - Electrek.co
---
Customize your Coupe to fit your family's needs!