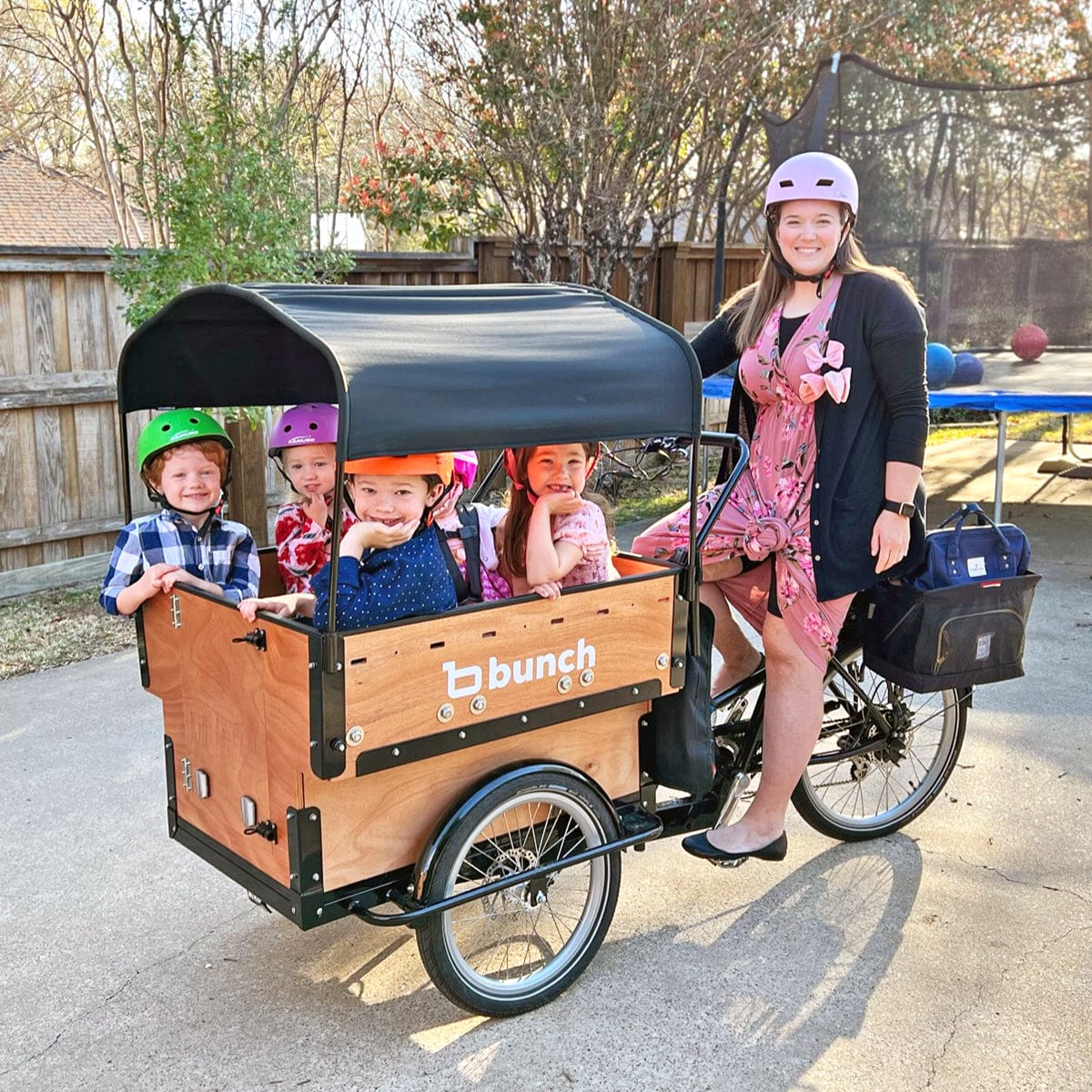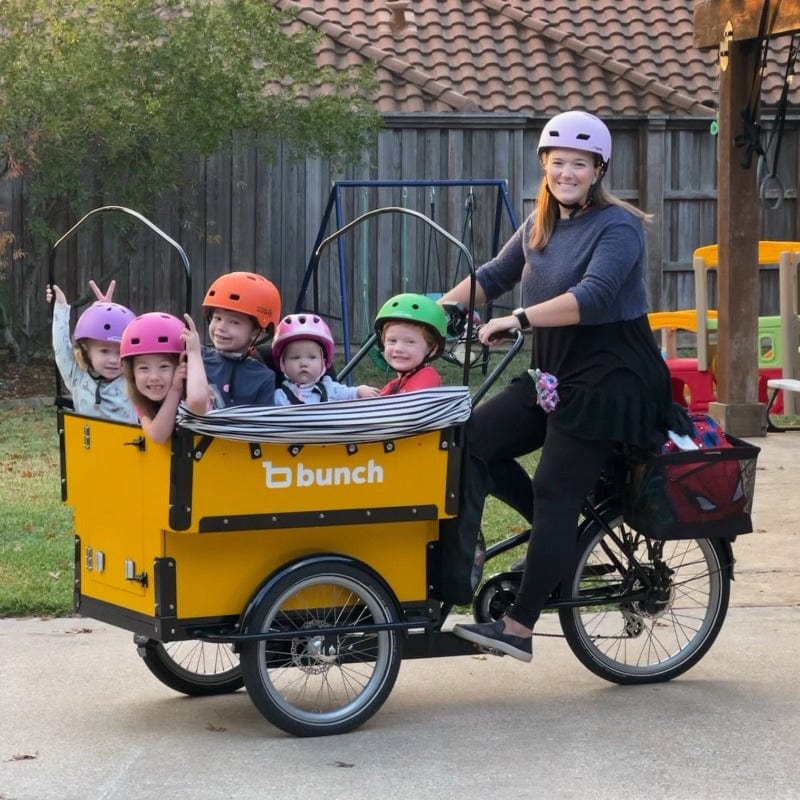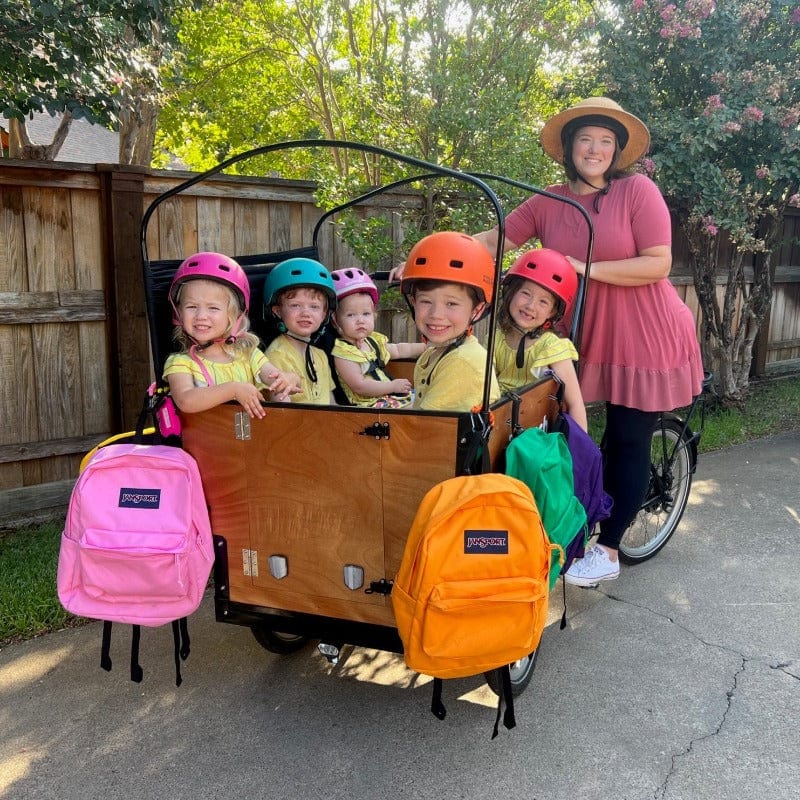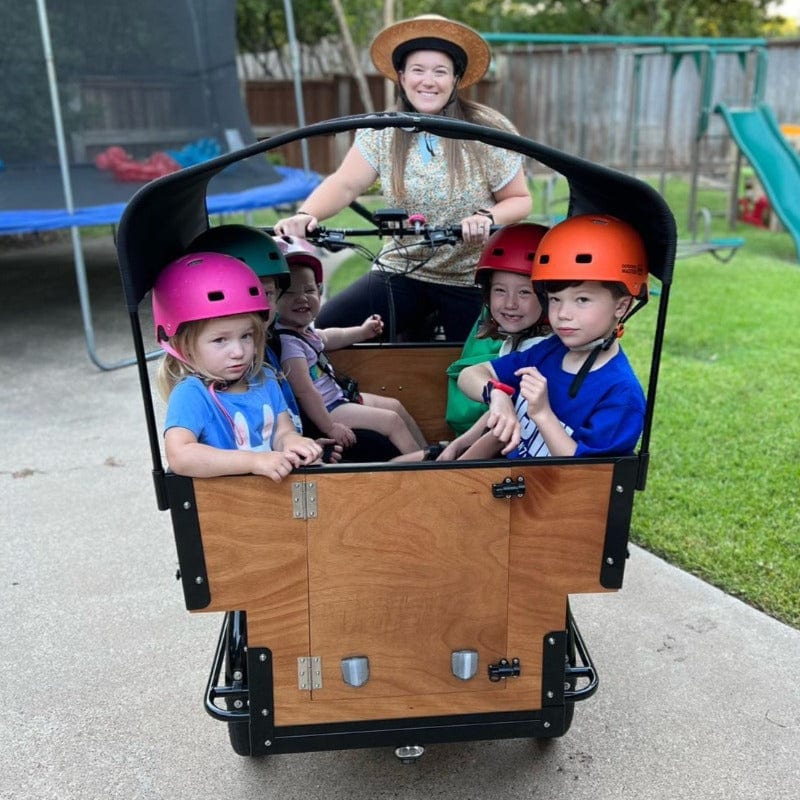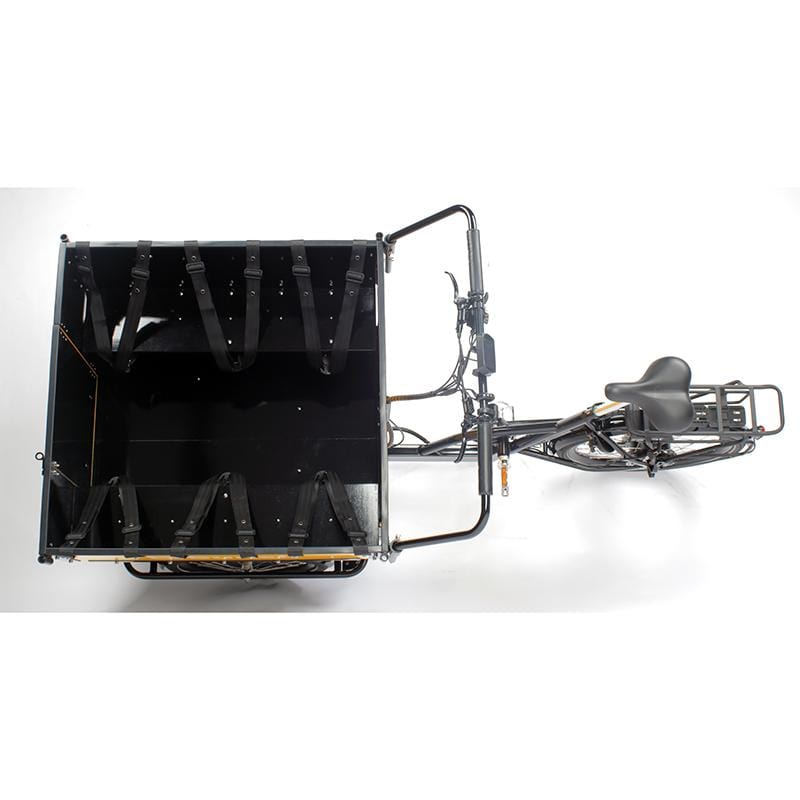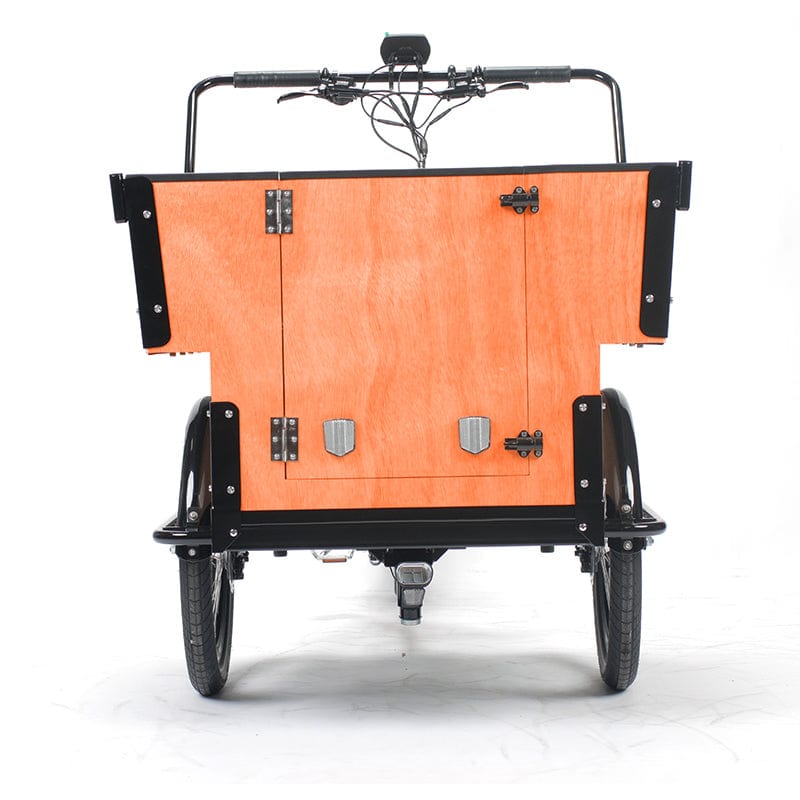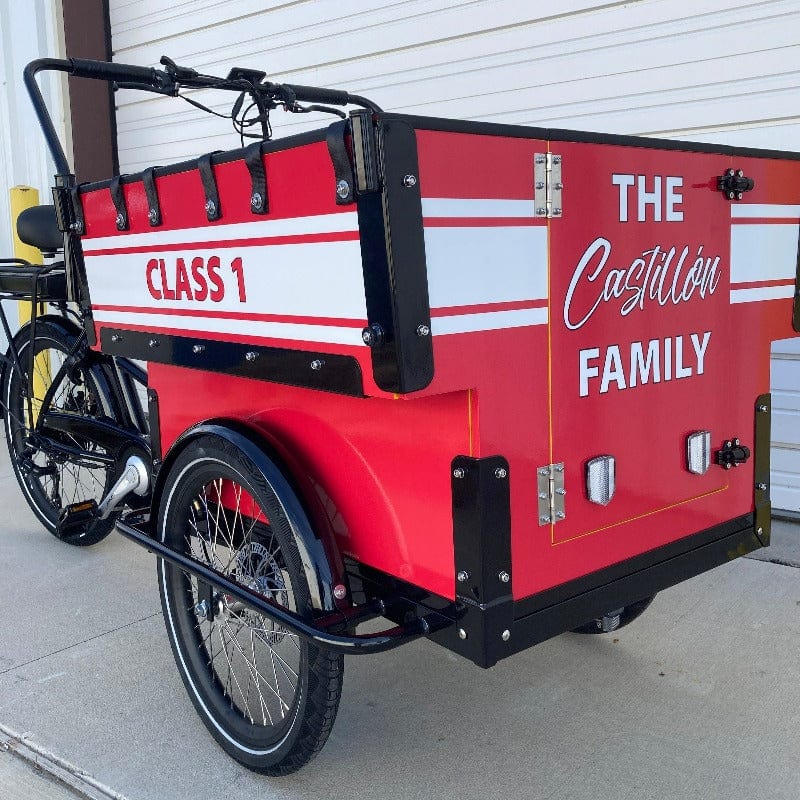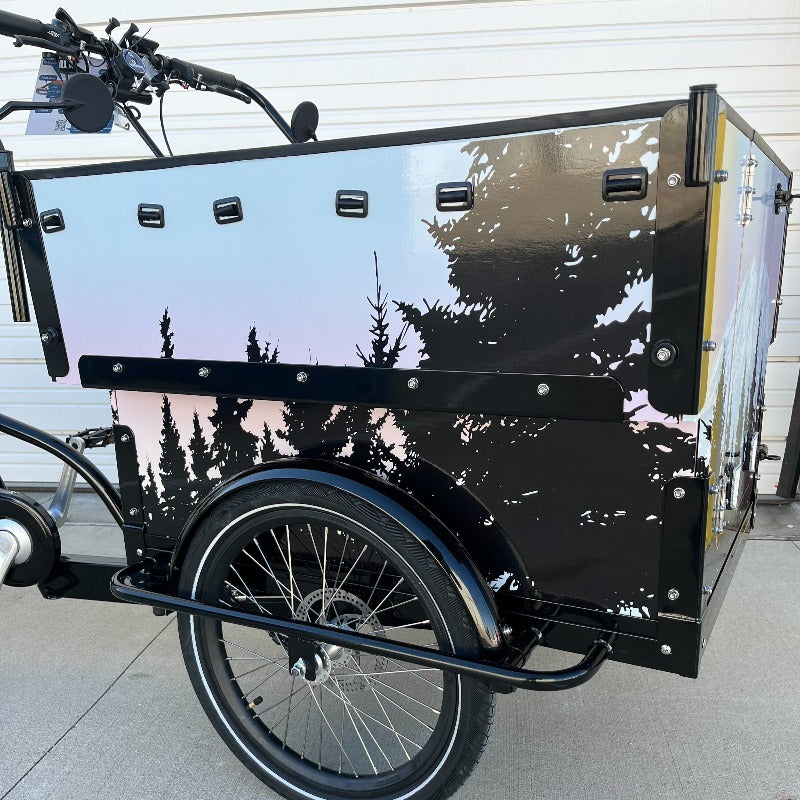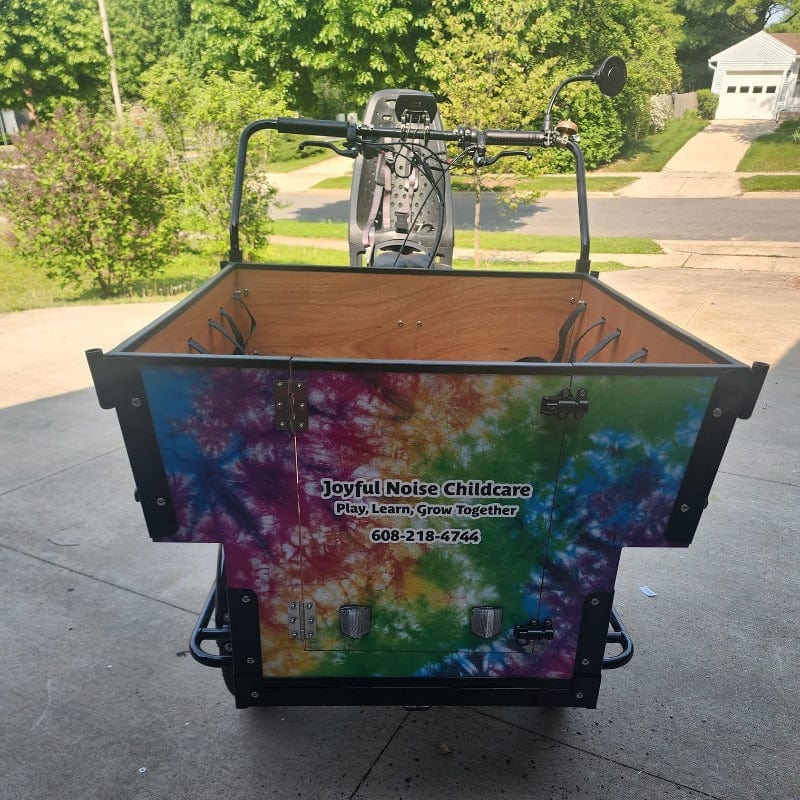 The Preschool 3.0 - Electric Cargo Bike for up to 6 Kids
The biggest of our bunch, the Preschool Cargo Bike is a game-changer for your preschool, learning pod, or really big family! The kids will have the time of their life, riding with their friends to the park or library. And you won't even break a sweat, as the 500w electric motor powers your highly visible school-bus-yellow bike around town. All at a fraction of the cost of buying a transport van for your center!
We're proud to introduce the Bunch Preschool 3.0: Updated components include improved display and controls, more comfortable saddle, and flat-resistant tires. 
Shipping: $199. Arrives Fully Assembled
Bikes in stock will arrive within 2 weeks in the US - 3 weeks in Canada.
Honey Woodgrain is a high-gloss lacquer finish that highlights the natural woodgrain.

Classic Yellow & Black is a premium paint finish that creates a uniform semi-gloss appearance without visible woodgrain. 

Custom Design: Create a showstopping custom look and highlight your brand, your organization, or your family's unique style. Learn more about pricing and options here. We also offer a range of artist collaborations.
Every Bunch Bike comes with our 12 month warranty. Your bike is guaranteed to work perfectly for you! If you run into problems or defects during the warranty period, we will cover both parts and service to get your bike running smoothly for you. You can read more about our warranty here.

You can also purchase optional extended warranty coverage through Mulberry.

 We want you to be able to try your Bunch Bike risk-free. All new Bunch Bikes come with a 14-day free trial period, beginning the day you receive your bike. If the bike doesn't work for you, let us know within 14 days. We'll arrange for your bike to be returned to us and you will be eligible for a 100% refund, including shipping costs.

 We pride ourselves on exceptional customer care. We want your family biking experience to be fun, safe and stress free! Please check out our reviews for feedback from our customers about the Bunch Bike experience.
Battery: 48v 13.6Ah Li-ion - 653 Wh,Samsung 35E Cells

Battery Charger: UL Certified, 48v 2A Smart Charger

Brakes: Bengal Hydraulic Disc Brakes, 160mm Rotors

Cargo Box: Marine Plywood with 2 benches and front door

Chain: KMC 27

Crankset: 38T, 170mm DAPU crankset with magnet speed sensor

Derailleur: 7-Speed Shimano Tourney

Fenders: Included, black steel front and rear, full coverage

Freewheel: Shimano 7-Speed

Frame: Steel - Black CNC painted, ED rust-proof internal coating

Grips: Comfort EVA foam grips

Handlebars: Alloy, Height adjustable by 8.5"

Lights: Front - XC-297E LED light, Rear - Spanninga Lineo - integrated in battery case

Motor: 500W brushless, DAPU M155 Geared Hub Motor, 45 Nm of torque

Pedals: Wellgo K79 with reflectors

Rims: Samson, double wall, alloy, (36H front | 36H rear)

Saddle: Bunch comfort saddle - black

Seat Belts: Six 3-point seat belts included

Seatpost: Promax, 28.6mm x 350mm

Seatpost Clamp: Promax 319Q, quick release

Shifter: Shimano Tourney 7-speed

Spokes: 12-gauge stainless steel

Steering Damper: Single gas-spring damper

Rear Rack: Included, 66-pound load limit, integrated battery rack

Tires: CST C-1635, Front - 20" x 2.15" | Rear - 24" x 2.00"

Throttle: Wuxing 108XL side-pull thumb throttle
Recommended Rider Heights:

5'4" - 6'5" - On standard equipment

5'0" - 5'3" - Let us know so we can customize the seat height

Seat Height: 29.5" - 39.5" (measured from bottom of pedal stroke)

Handlebar Height: 45.5" - 51.5"

Total Length: 83"

Width at Widest Point: 36.5"

Handlebar Width: 34"

Usable Length of Rear Rack: 14"

Rear Rack Capacity: 55 lbs.

Total Loading Capacity of Bike: 350 lbs.

Max Loading Capacity of Cargo Area: 220 lbs.

Bike Weight: 160 lbs.

Seatpost Diameter: 28.6 mm

Cargo Box Internal Width: 33.25"

Wood Thickness: 0.5"

Cargo Box Internal Length: 36"

Cargo Box Height: 23.75"

Height of Benches from Floor: 11"

Depth of Benches: 8"

Height from Ground to Floor of Box: 17"

Width of Door: 15"
Why Bunch?
Learn what makes our bikes unique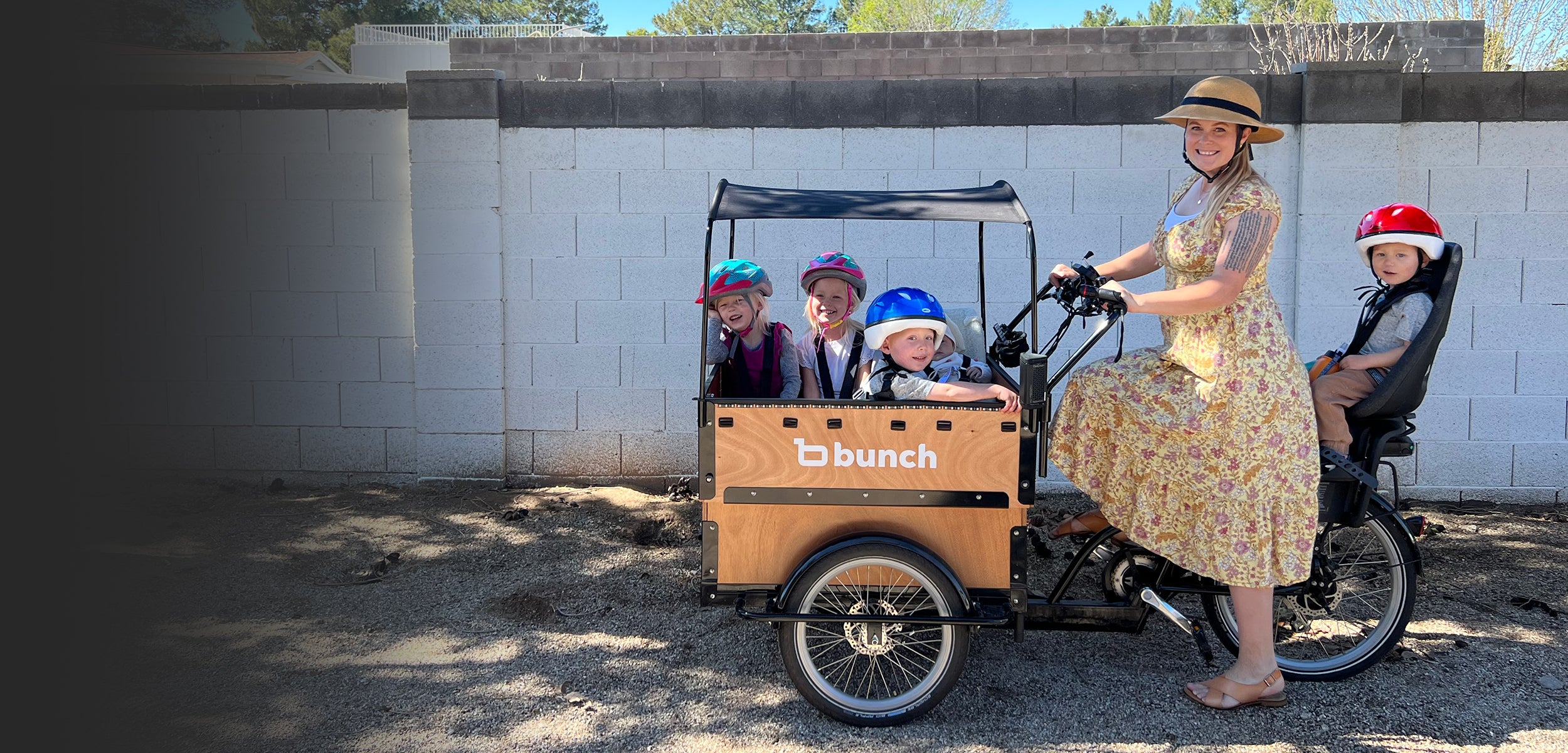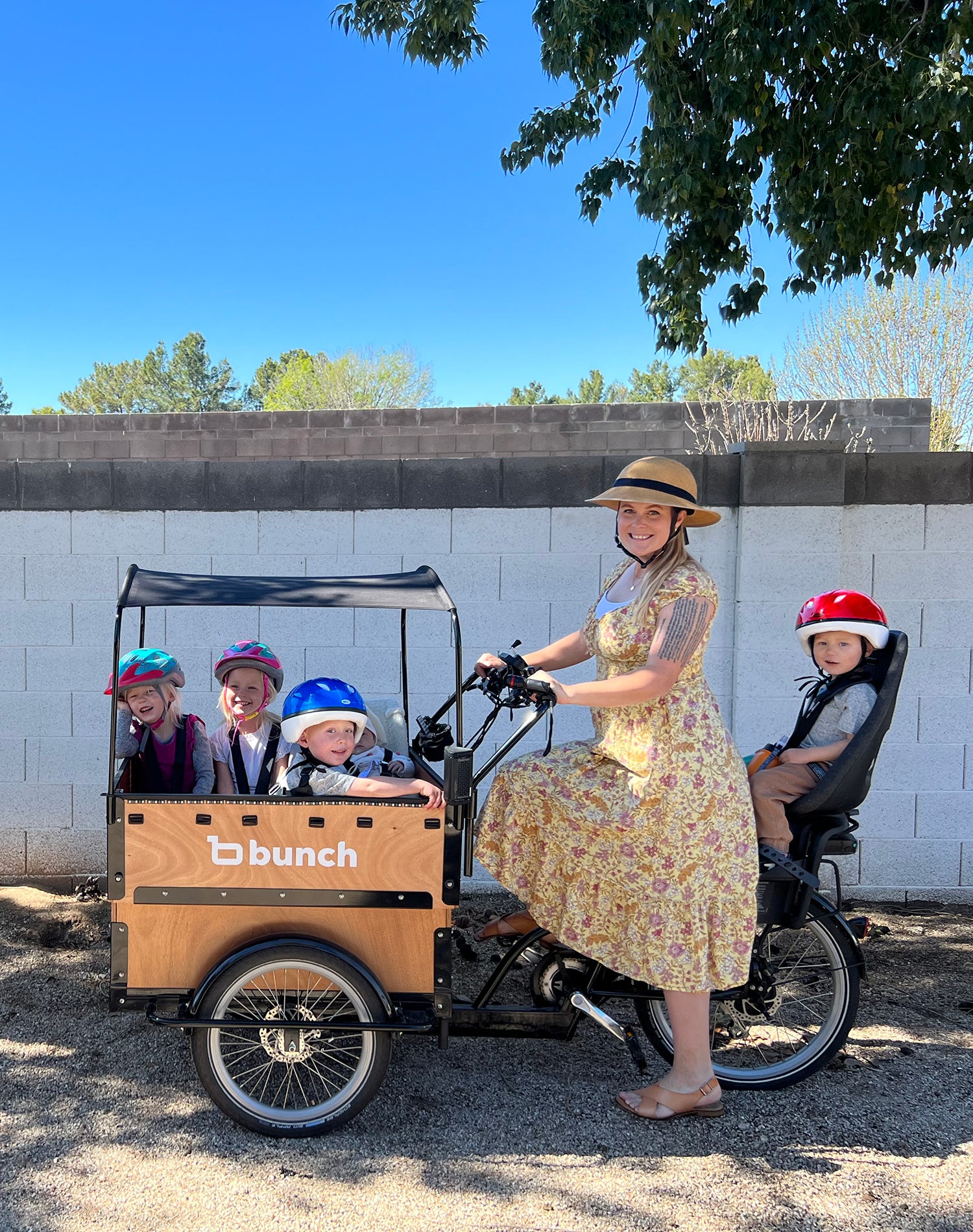 Trike Stability
Three wheels make the bike easy to start, stop, and handle, even for beginners.
Kids in Front
So you can talk, laugh, sing, and enjoy the ride together. Seatbelts included!
Powerful Electric Assist
With 500w of power, your family will soar - even uphill, even fully loaded!
Our Community
We're proud to take exceptional care of our Bunch families. We're here to make your bike life easy, accessible, and fun!
Safety First
We use quality components and build and test each bike in our warehouse in Texas. That's how we ensure safety for our kids - and yours.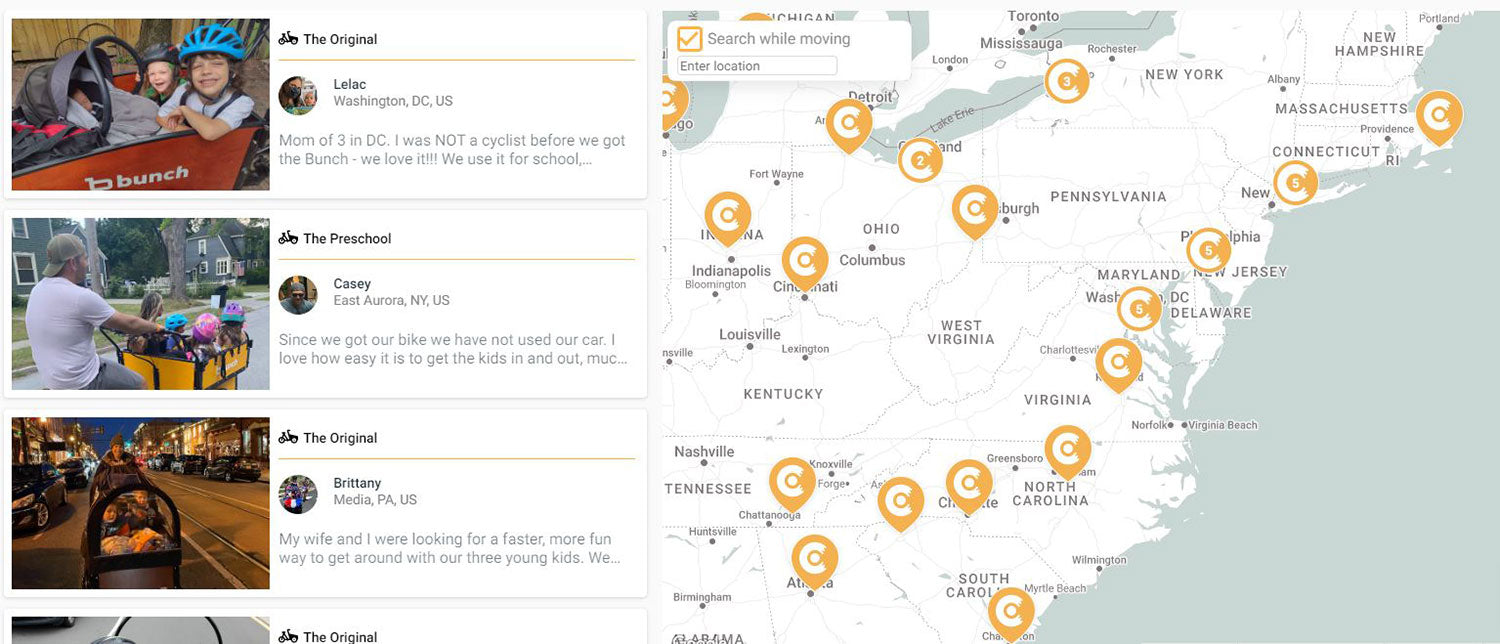 Try Our Bikes
Meet a Bunch Squad member in your community to test ride a Bunch Bike in person
Find A Test Ride
Everything you'll need to get rolling
Upgrades & Accessories
This product is rated 5.0 of 5.0 stars.
It has received 25 reviews.
Best Cargo eBike to transport kids
Due to a medical condition, I cannot operate a car, so this is my car, and I praise God for it. For the first time in my life, I can bring my kids places and do errands for the family.
I got the 6-seater, but I would recommend getting the 4-seater. I didn't realize that the weight limit would restrict having 6 kids sitting in it, unless they are all small. The extra space is nice, but in my assessment, not worth the price jump. Still a great purchase though!
Hi Danny, this is great to hear. Being able to get your kids around by bike is great - I'm so glad it's bringing your family the freedom you hoped for. You're right though, six big kids would be an overload even in the preschool!
- Aaron - Bunch Bikes CEO
overall good product, kids love it
One of the few cargo bikes on the market that can comfortably carry 3 or more kids.
It's wonderful at low speeds because of the stability of the 3-wheel build. And kids are in front so you can talk to them and see them.
Customer service from the company is TOP NOTCH.
Having a throttle is extremely helpful.
Hydraulic brakes are good.
Step through frame design is comfortable for a wide height range.
Downsides:
-not the best at high speeds (e.g. 15+ mph), doesn't feel super stable.
-if you turn fast, or weight is unevenly distributed, concern for tipping the bike.
-a bumpy ride for the passengers, you have to go quite slowly over bumps in the road, and getting seat cushions for the kids is helpful.
Overall if I was looking to transport 1-2 kids at high speed or for long distances often, I would look for a different product.
But for 3 kids, and going at a leisurely pace, this product is wonderful. It has effectively replaced one of our cars.
Thanks VCM!
I think that's a good summary of the pros/cons. Bunch Bikes are not for racing, and top speed is going to be between 15-18mph depending on the rider's level of comfort. The trade off of the 3-wheel design is being able to haul A LOT of kids/stuff/gear/etc.
I always recommend people watch this video with tips on how to turn the bike safely, as the handling is definitely different than a normal bicycle: https://www.youtube.com/watch?v=ePuOqpNBehA
Thanks for taking the time to leave your honest feedback for others to learn from!
- Aaron - Bunch Bikes CEO
2 Bunches!
We run a licensed childcare program for 12 and just got our second Cargo Bike!!
Now our whole crew can go on learning adventures.
We got our first one in 2019 and it's in amazing shape, customer service is great and we couldn't wait to have the opportunity for a second one!
The newer model rides higher but both are comfortable, feel safe & secure with a load of kids.
Hi Stacie!
I'm so glad to hear your bike from 4 years ago is holding up well and that you were able to add a 2nd to your school's fleet! I had a dream 6 years ago when I saw Kindergartens in Europe going to parks and adventures by bike and am so happy to see schools like yours now doing the same thing in the U.S.
- Aaron - Bunch Bikes CEO
Worth it!!
You can buy a much more expensive carbon bike that fits one or you can bunch everyone together in this one. The actual bicycle functions are great and I am an unofficial spokesperson wherever I go. Every family I run into at the park wants one and they should! No complaints at all.
Hi Michael,
Thanks for spreading the good word while you are out and about. I know it can be hard to ride without attracting a lot of attention! We're here for you if you ever need anything, just let us know!
- Aaron - Bunch Bikes CEO
Amazing Bike
This bike has been a total game changer for my small in home daycare. We can get places quicker, go further to different parks, see more trails, discover more around us, and so much more. We have been loving our bunch bike! Customer Service is OUTSTANDING! I've never experienced better customer service anywhere else. I'd give everything 100 stars if I could!
Thanks for sharing Kelly!
I'm so glad to hear that the bike is enabling your kids to have so many enriching experiences! Our customer service team is the best, I am very appreciative of the work that they do to take such good care of our customers.
- Aaron - Bunch Bikes CEO
Amazing Bike
This is one of the best purchases that we have made as a family. It is a wonderful and fun way to run errands around town and visit our family.
Hi Alex,
I never get tired of hearing customers say that the Bunch Bike is one of the best things they have ever purchased. It validates the hard work that we put into the product and the customer experience. So glad you guys are enjoying the bike!
- Aaron - Bunch Bikes CEO
Great Community Builder
We have enjoyed our custom Bunch Preschool so much! It has made a great impact on the community and allowed us to have even more participants on our group rides. Looking forward to sharing it with more families in the future.
Thanks so much Gina!
I'm happy to see your Bunch Bike being used as a rolling billboard for bike advocacy in Cleveland and that it is getting others able to participate in your rides!
-Aaron @ Bunch
I am smiling at whatever is happening in this picture!
Glad you guys are loving the rides :)
-Aaron @ Bunch
An absolute blast
We're approaching 400 miles in just 4 weeks. We've hardly used the cars and take the bike everywhere. The PreSchool has been awesome as we pick up kids from the neighborhood for camp. Worth every penny and happy to be helping promote Bunch here in Western New York!
Hey Neil,
That's what I'm talking about, way to go! You guys are power users and I'm glad to see you're getting money's worth!
- Aaron @ Bunch
Bunch Bikes Review
As a busy mama on nine, we absolutely love this bike! It's so easy to use and operate. It makes family outings for a walk or to the park much easier. I love that I can get a full workout or rely fully on the electric part of it. We are obsessed!
Hey Lena,
Look at that fully loaded Pre-k, you're awesome! Glad it's easy to handle and that it's made your daily life with kids easier.
- Aaron @ Bunch