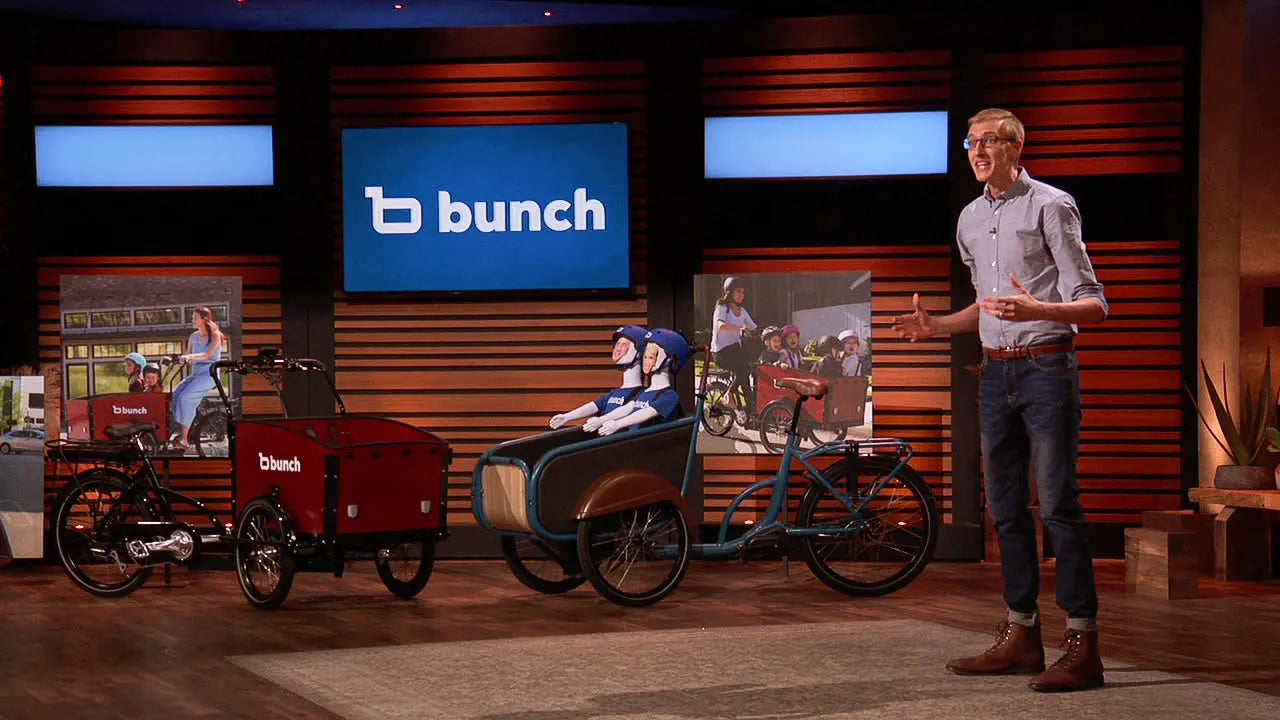 Bunch Bikes Strikes Deal on Shark Tank
Barbara Corcoran and Robert Herjevec invest in the direct—to—consumer family cargo bike business
Denton, TX—Bunch Bikes, a Texas-based company that sells electric bikes with a bucket on the front for kids and dogs to ride in, struck a deal on ABC's Shark Tank. On the season 12 episode, Founder and CEO Aaron Powell walked off the stage with a $100,000 equity investment and $150,000 line of credit from renowned investor, Barbara Corcoran. Shark Tank investor Robert Herjavec, not a featured Shark on the episode, became an investor alongside Corcoran several months after filming.
"I would have bought one of these cargo bikes years ago if I knew they existed," says Powell. "Since day one I've had this vision of me on a national platform telling America about the bikes and how amazing they are. I didn't know it was going to be Shark Tank. Millions of people, whether they're customers or not, now know these bikes exist. One day, they'll have kids or know someone who has kids, and the idea will spread. These investments are fuel on that fire."
To reach the deal, Powell spent months studying past episodes and preparing answers to questions commonly asked by the Sharks. He decided to target Barbara Corcoran after noting the interest she had shown in other bicycle companies previously on the show. During the episode, as other sharks declined to invest, Corcoran made a first offer of $250,000 for 40% equity in Bunch Bikes. After some back and forth negotiating, they settled on a $100,000 equity investment with a $150,00 line of credit, in exchange for 15% equity.
Prior to the filming of Powell's pitch in Las Vegas, Nevada, Robert Herjavec had already purchased an Original Bunch Bike. Months after the episode was filmed, Herjavec approached Corcoran and Powell, splitting the investment in Powell's e-cargo bike company 50/50 with Barbara Corcoran. 
Bunch Bikes sells a range of electric cargo bikes allowing riders to haul multiple children, attachments for infant car seats, and a cargo trike called The K9 tailored specifically toward dog owners. Bunch Bikes found in a survey of customers that 59% of respondents used their Bunch Bike as a car replacement either sometimes or completely, 63% rode their bikes at least 3-5 times a week, and 12% indicated someone with a disability rides in the cargo box. 
Bunch Bikes can be ordered online at bunchbike.com and are delivered fully assembled. 
About Bunch Bikes
Bunch Bikes is the leading manufacturer of front-load e-cargo trikes in North America. Based out of Denton, TX, it was founded by bicycle enthusiast and dad, Aaron Powell, who believes families come first and focuses on taking care of employees, designing family-friendly products, and providing exceptional service to customers. 
Media Contact:
Aaron Powell
Bunch Bikes CEO
(940) 536-0597
press@bunchbike.com