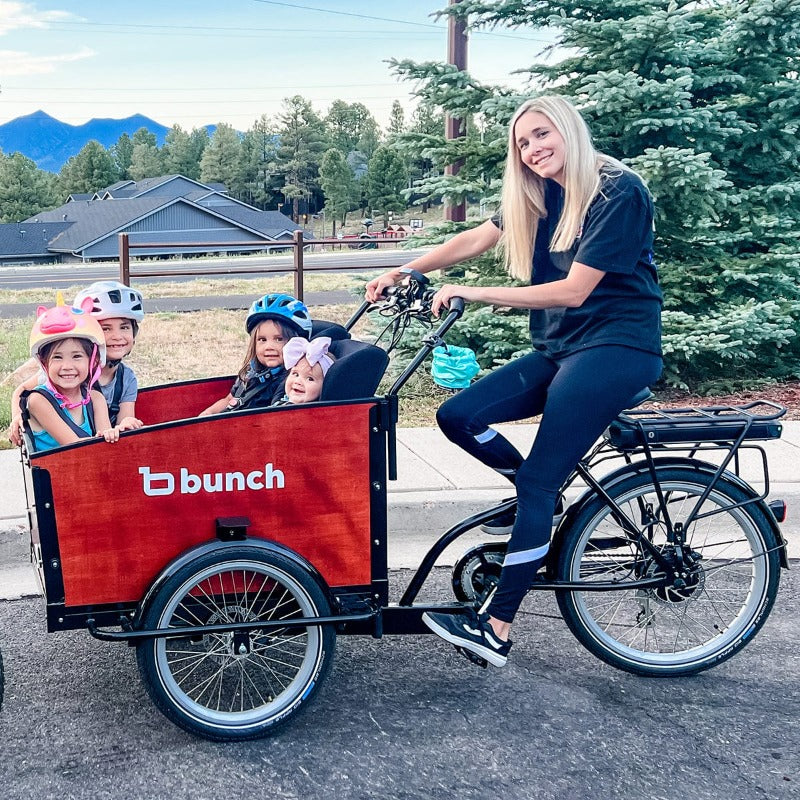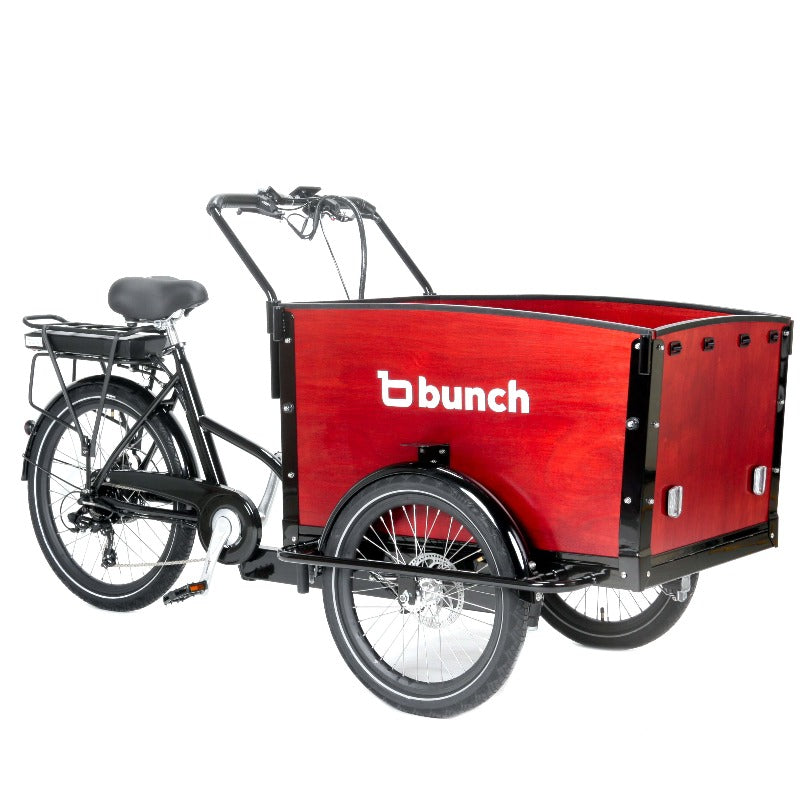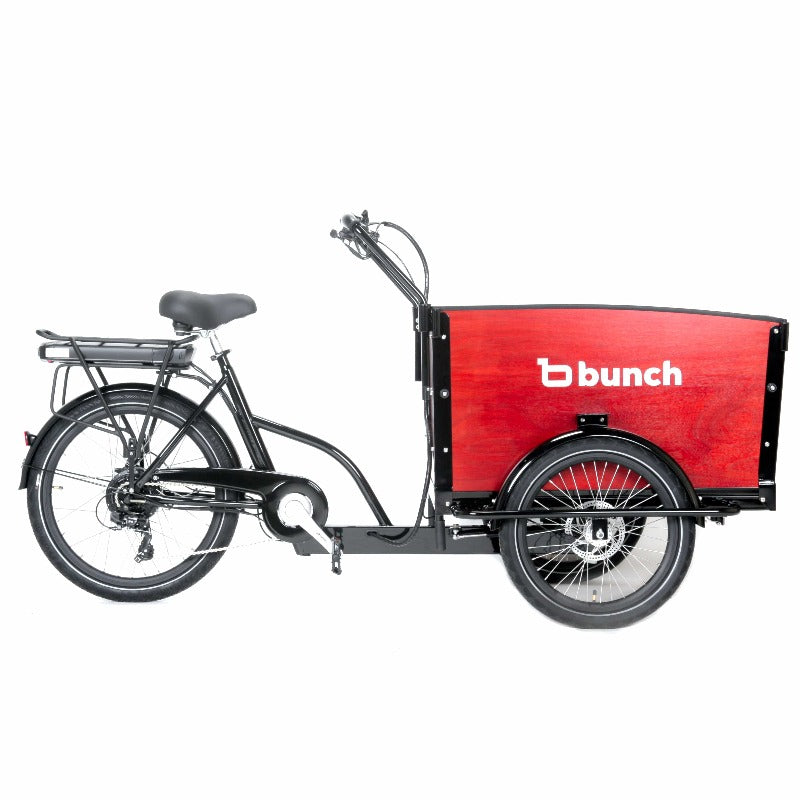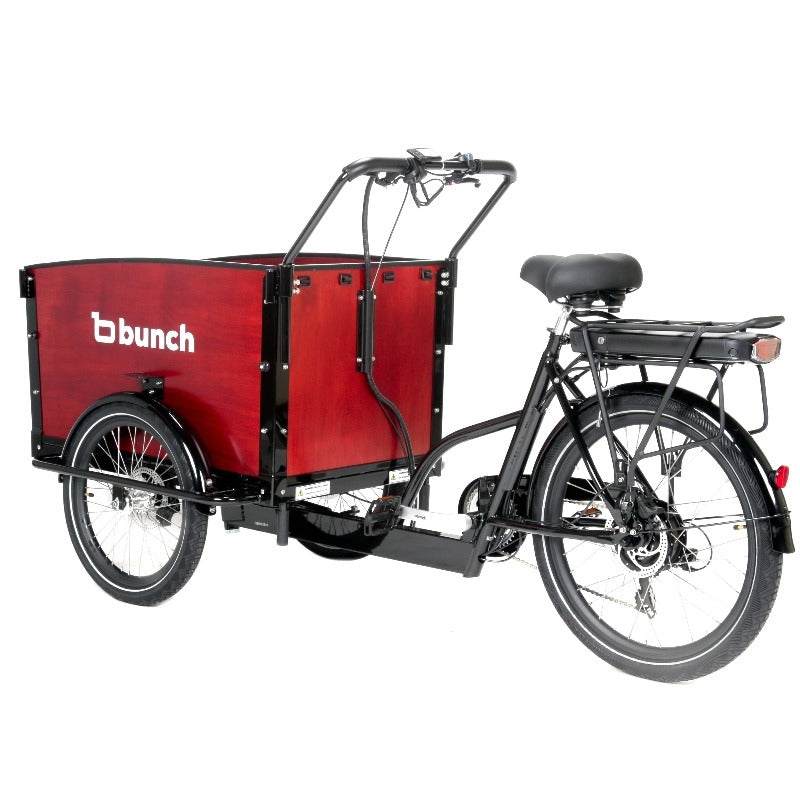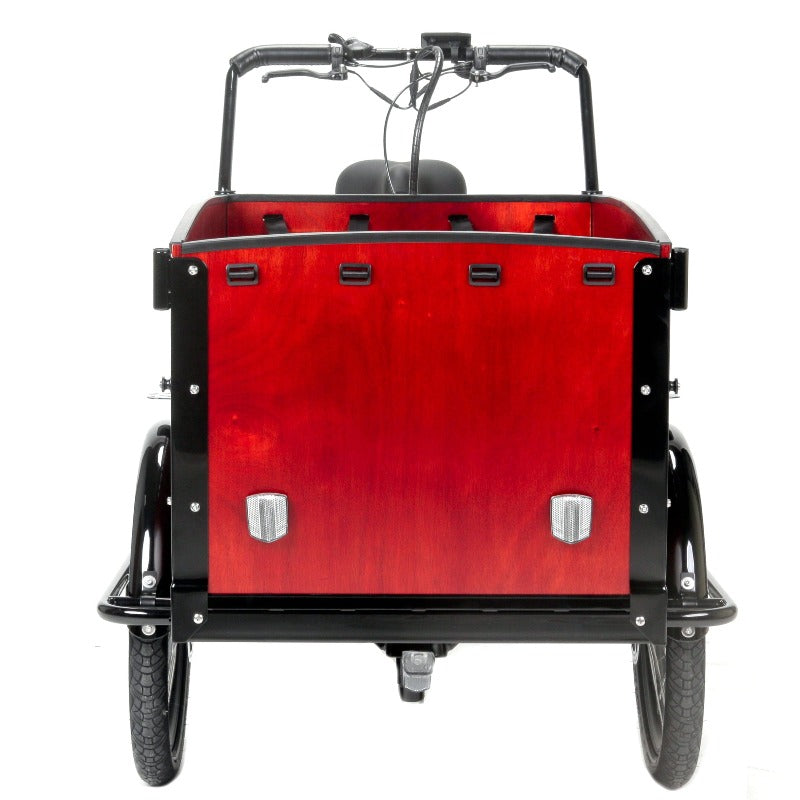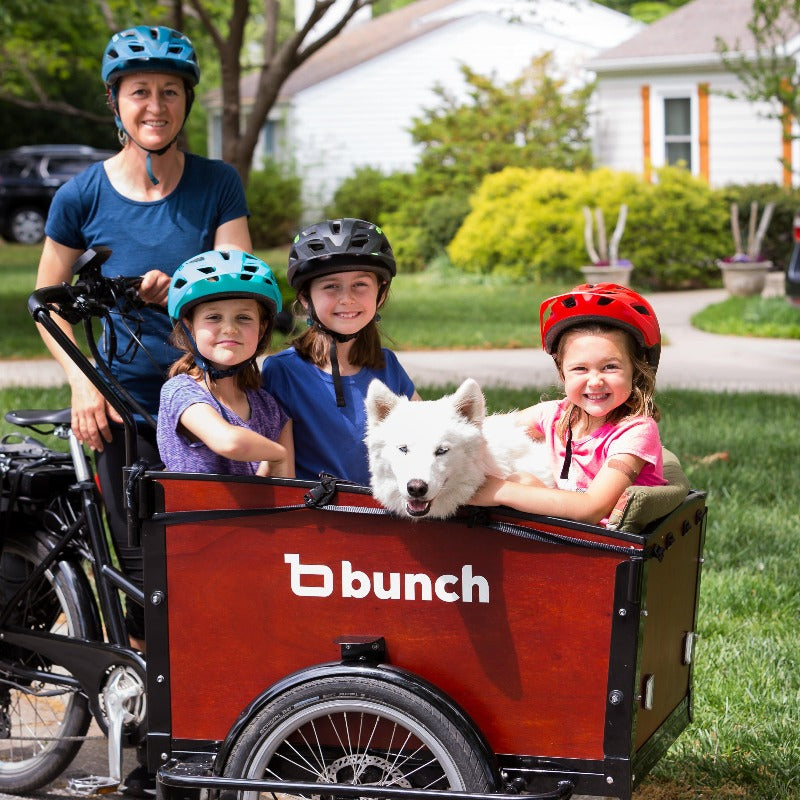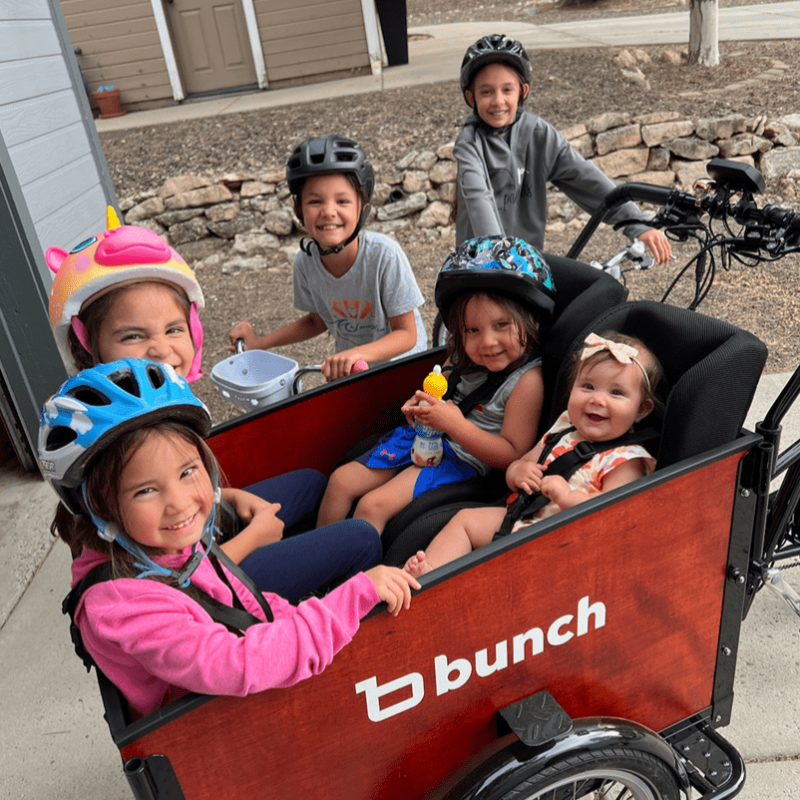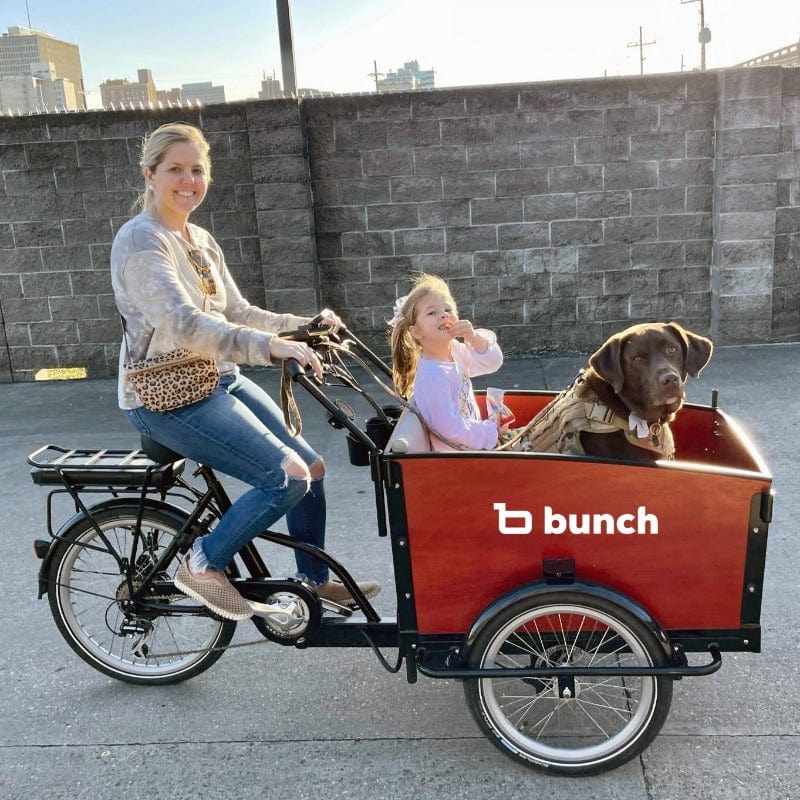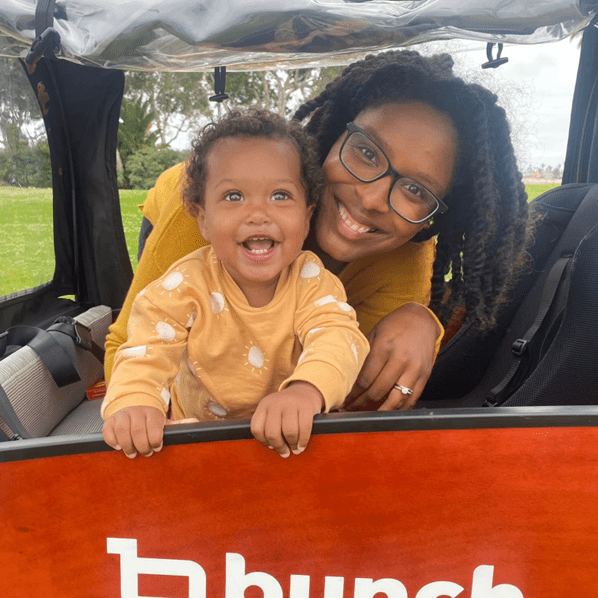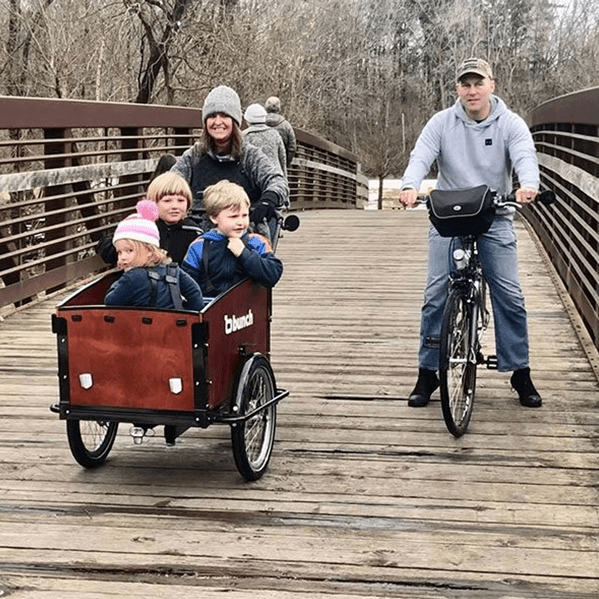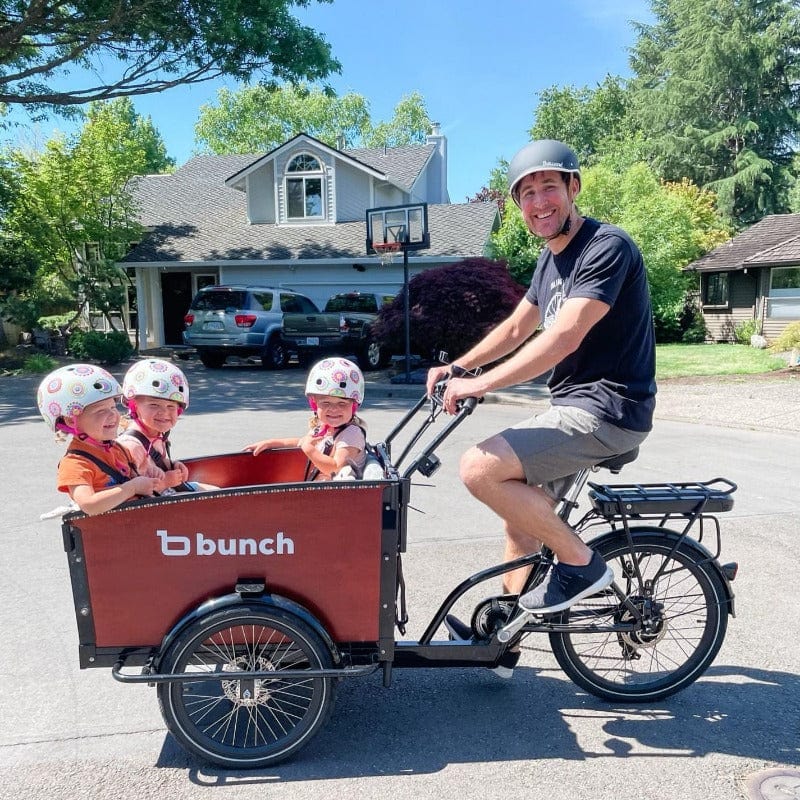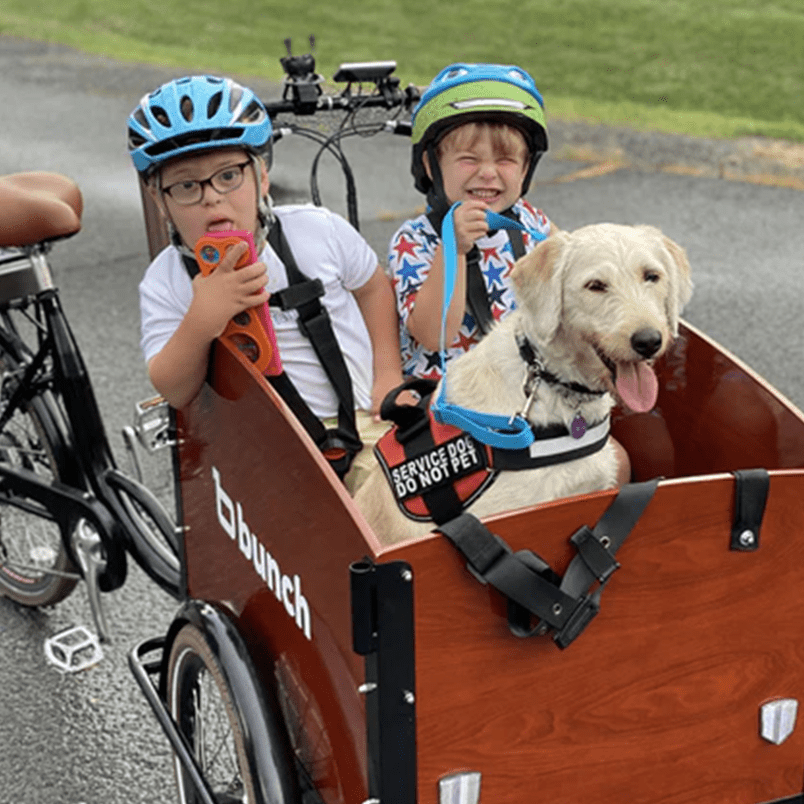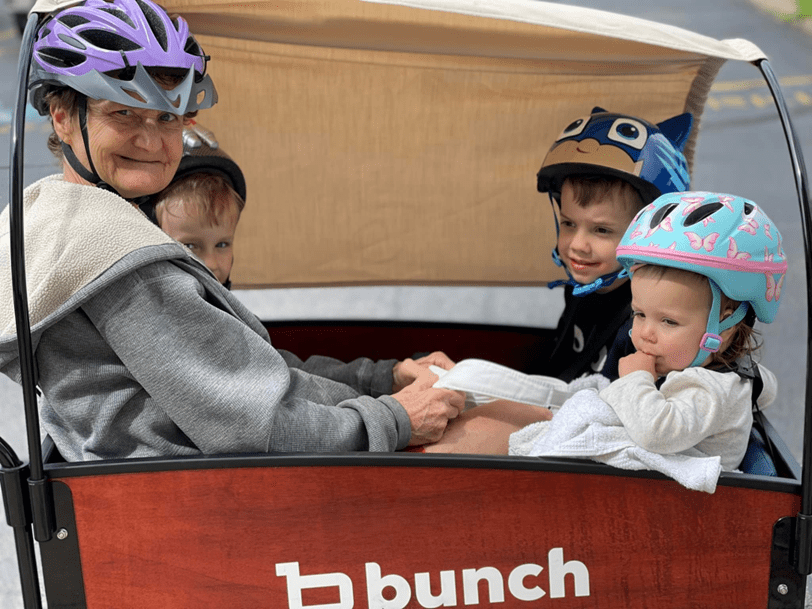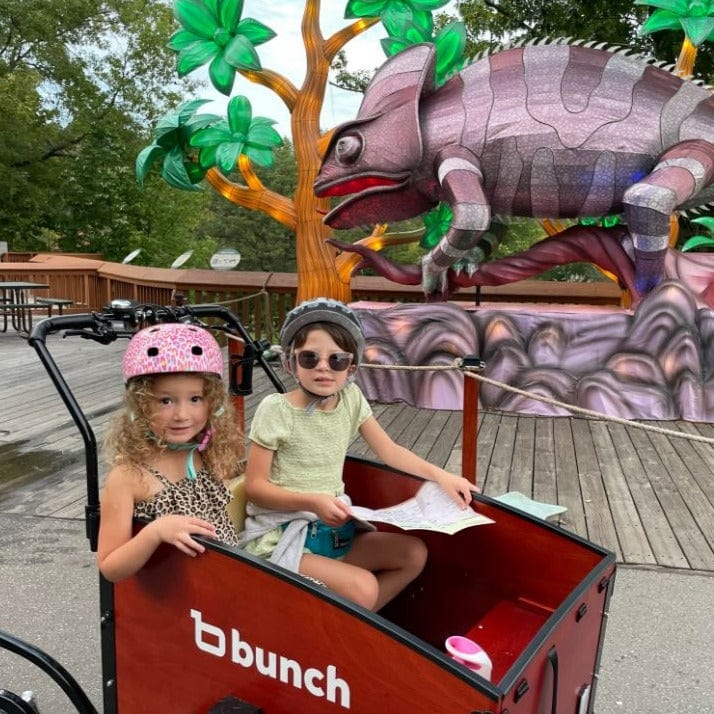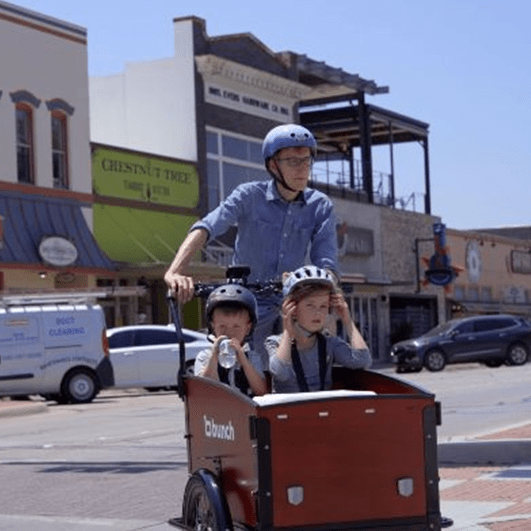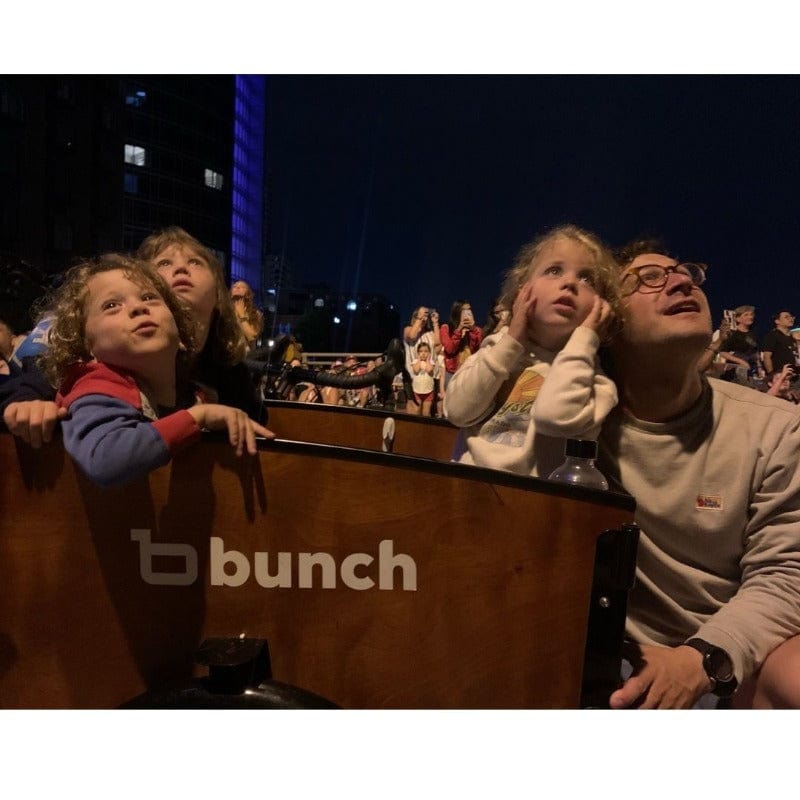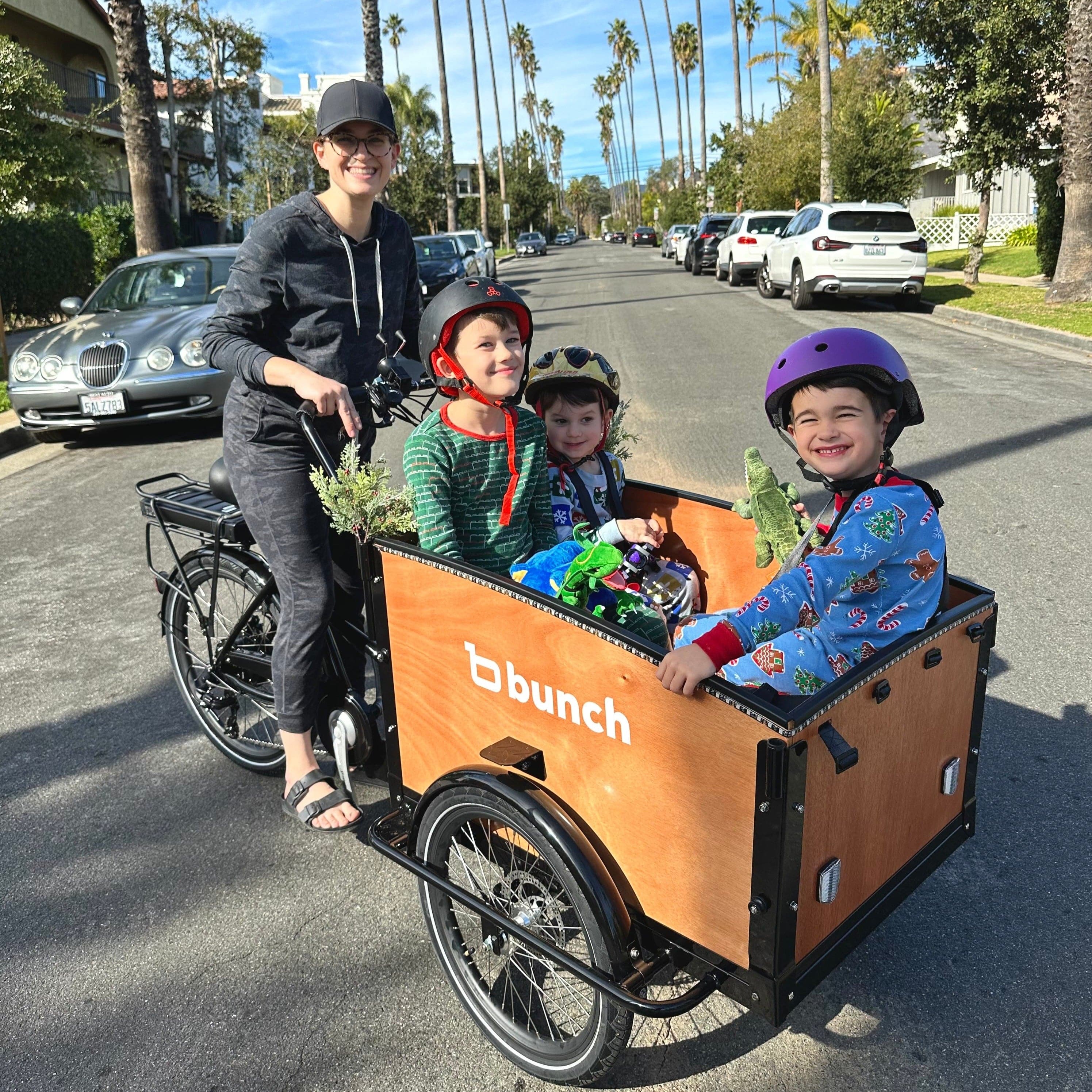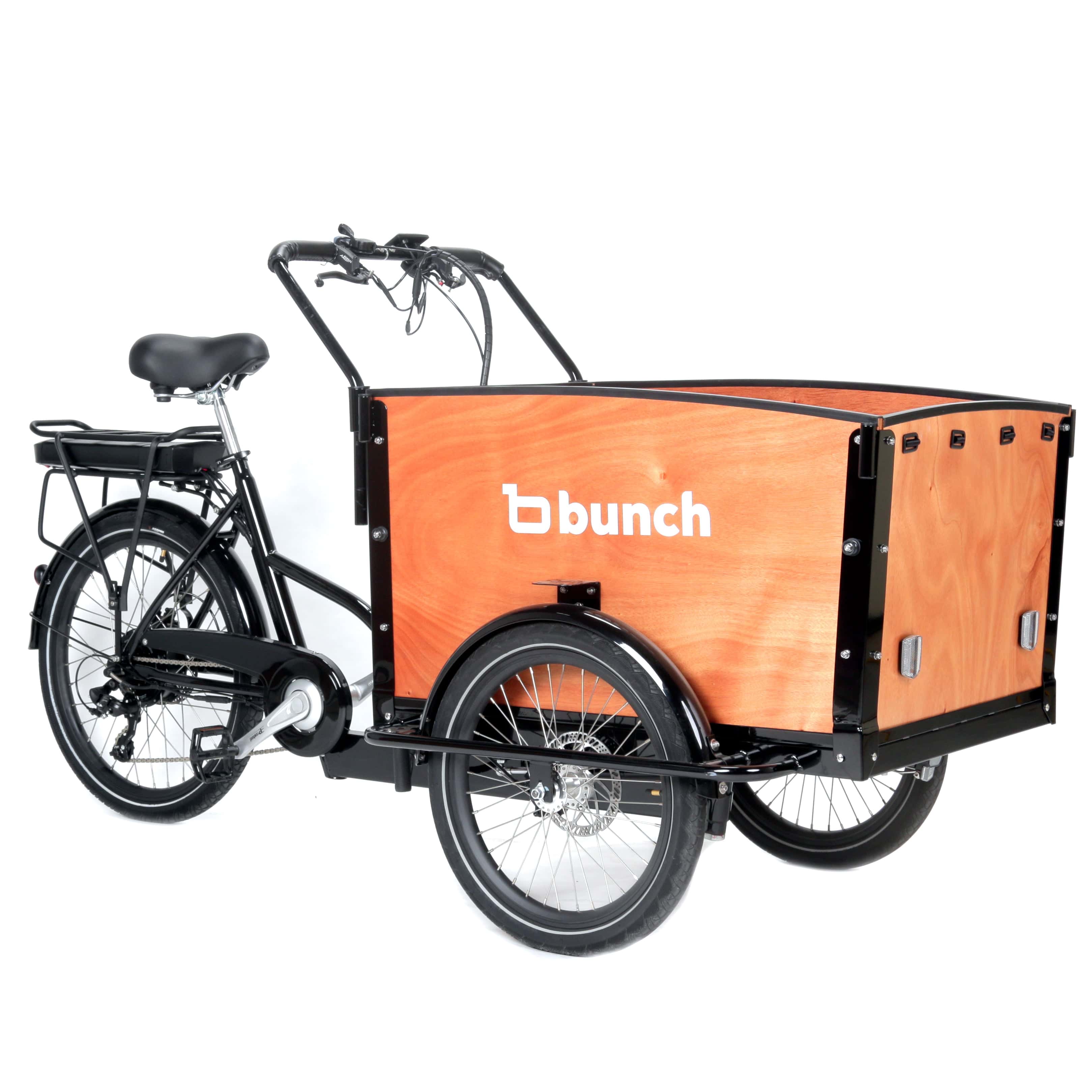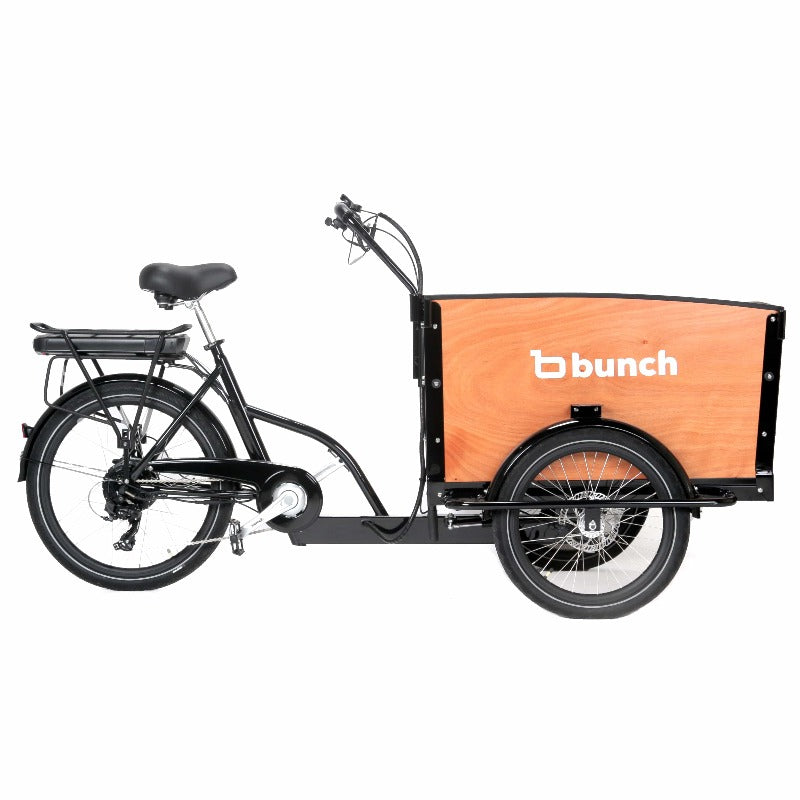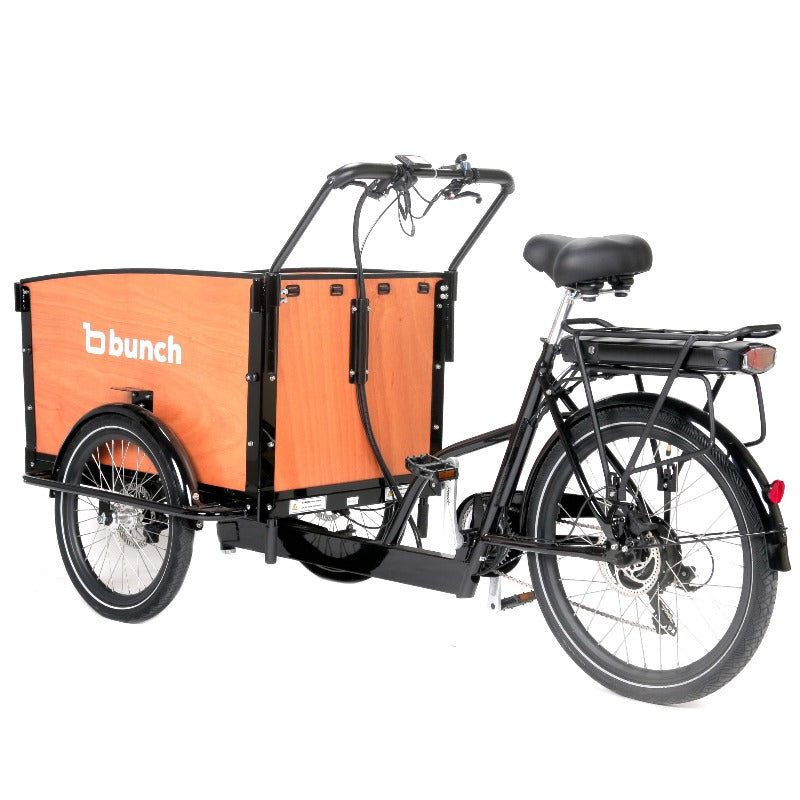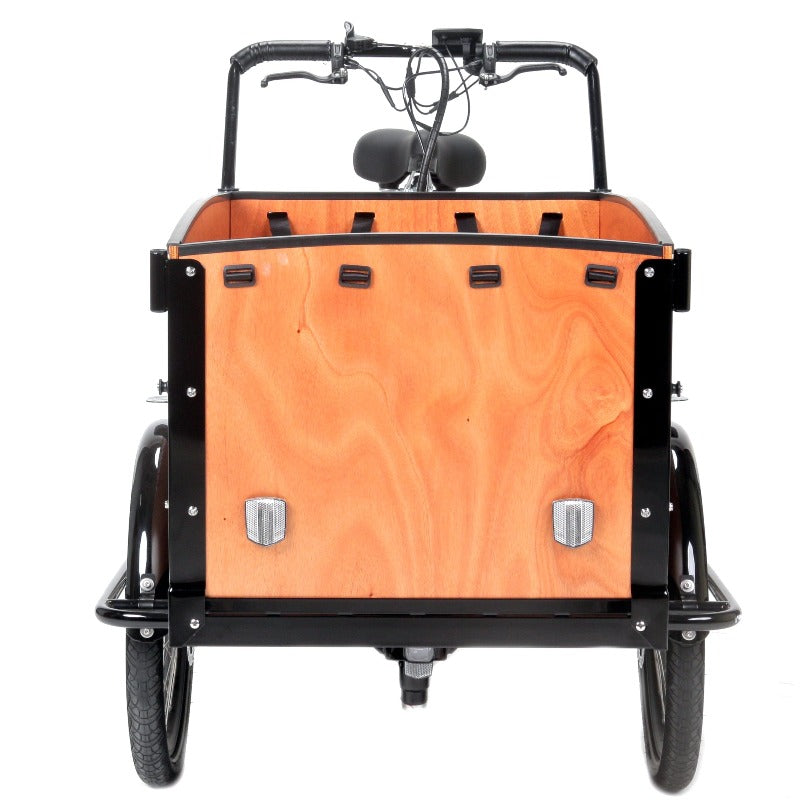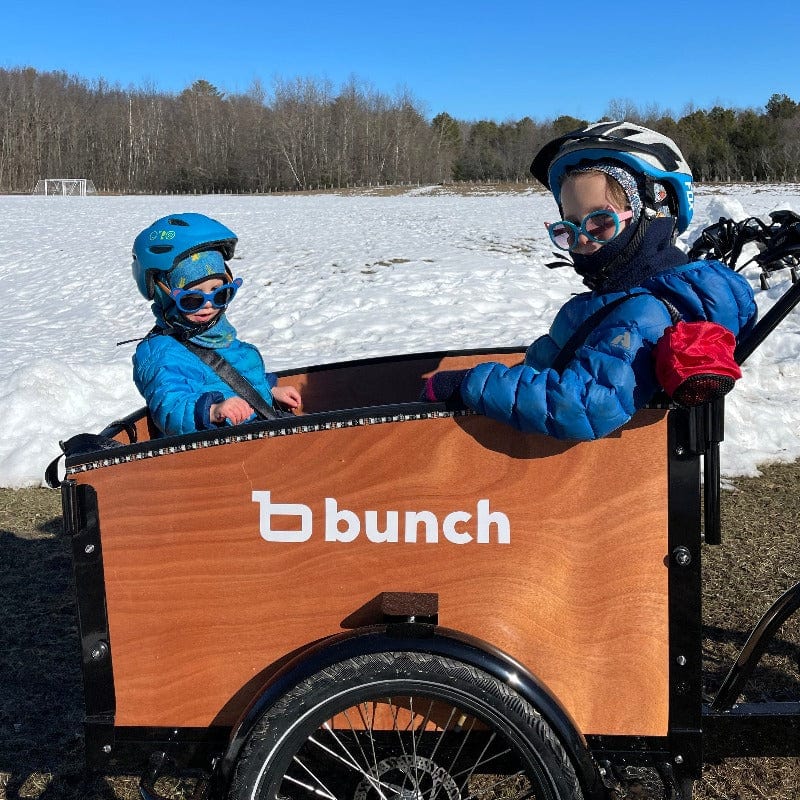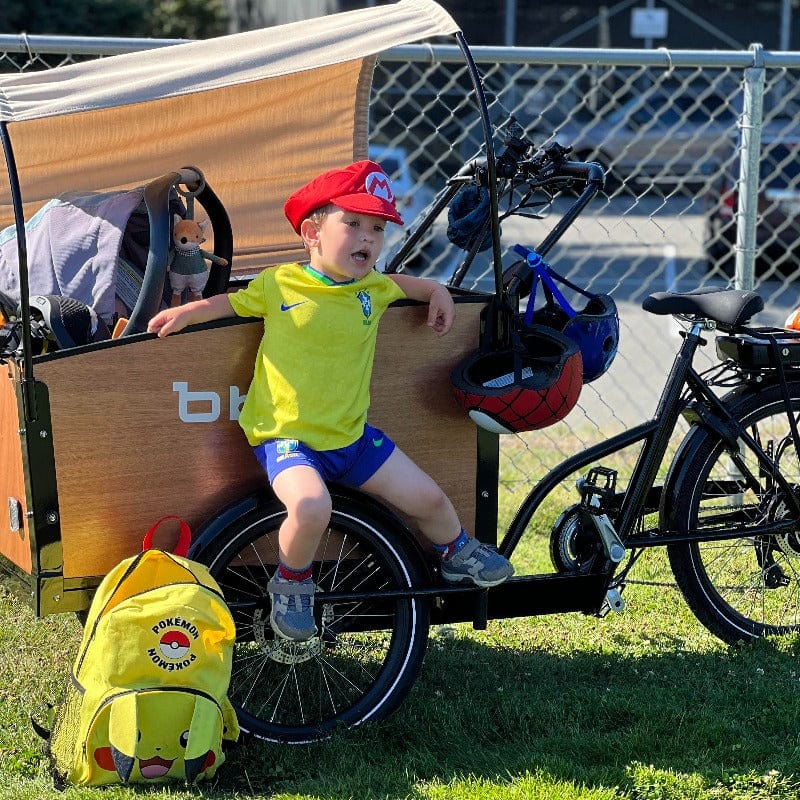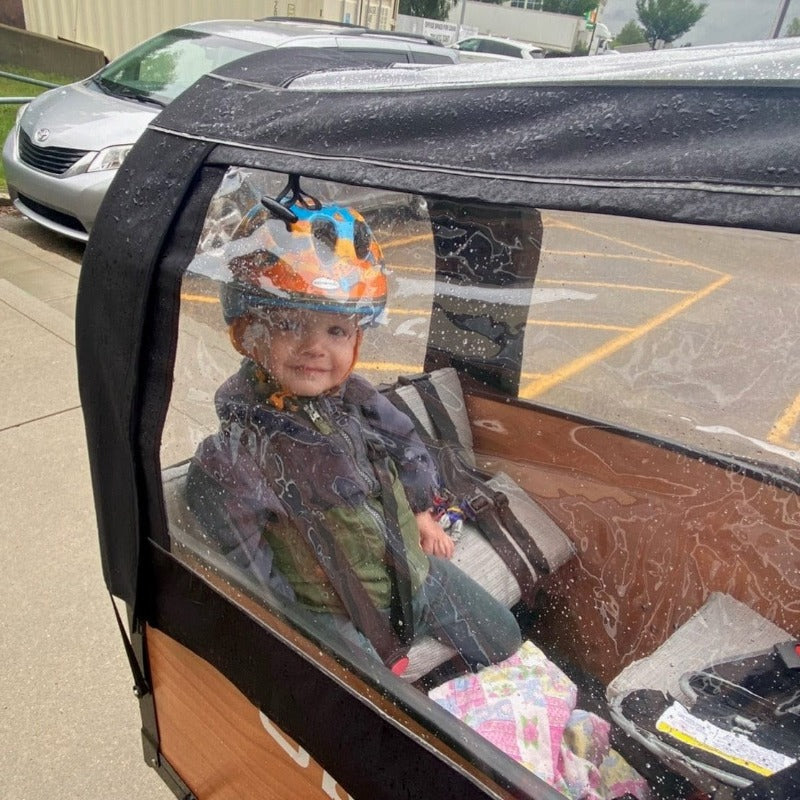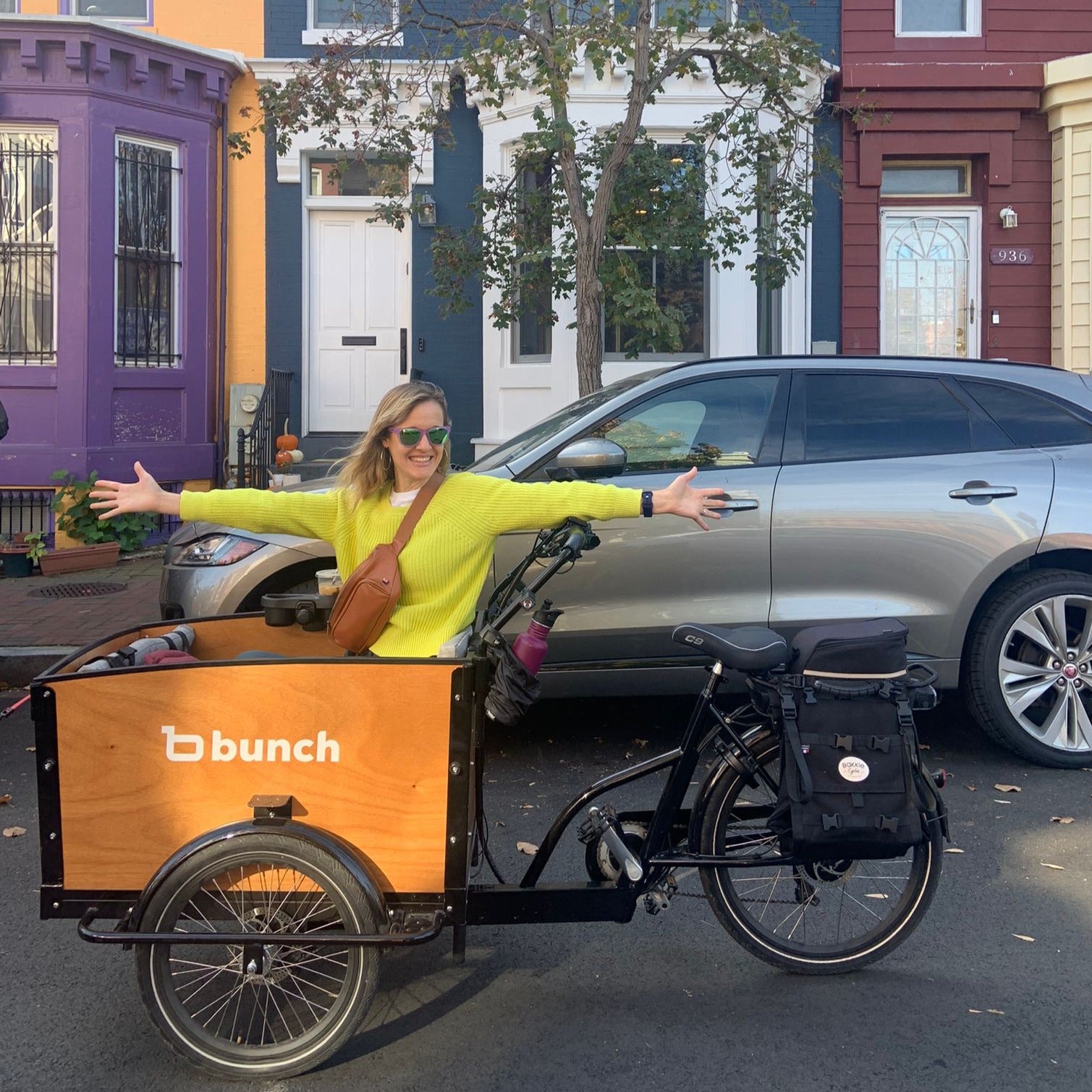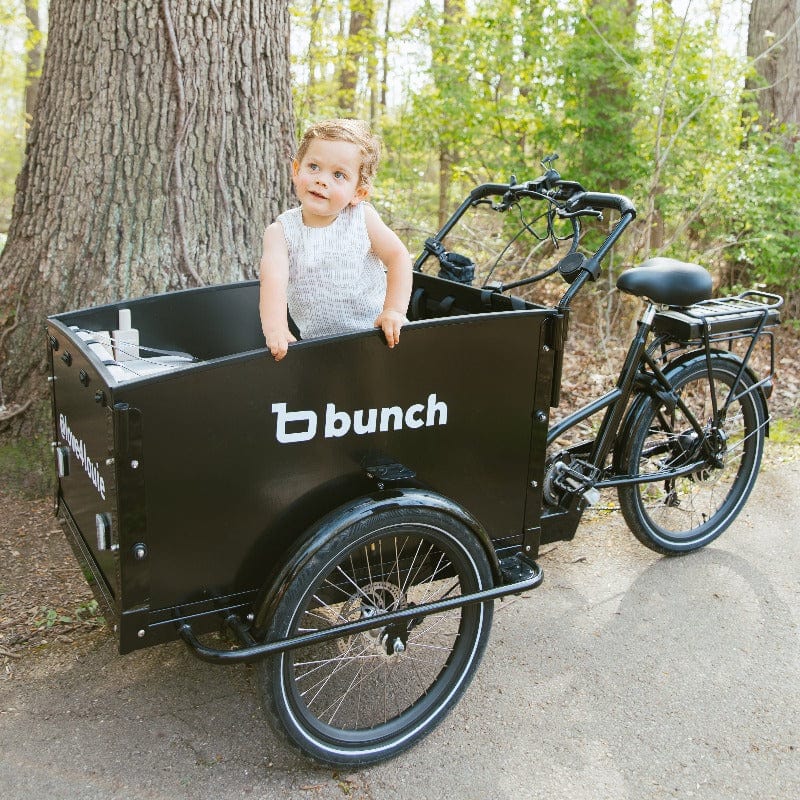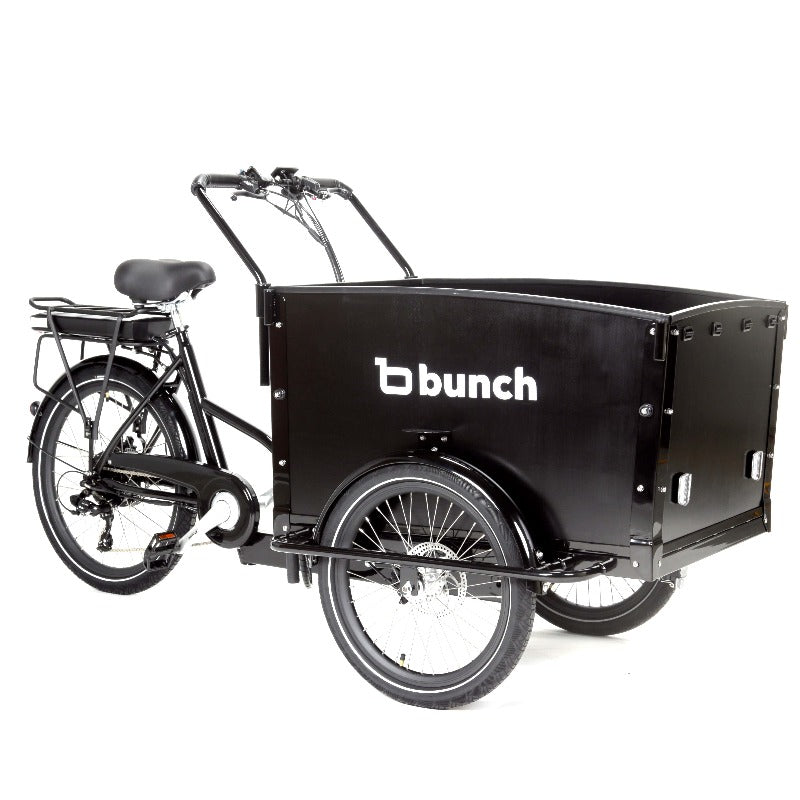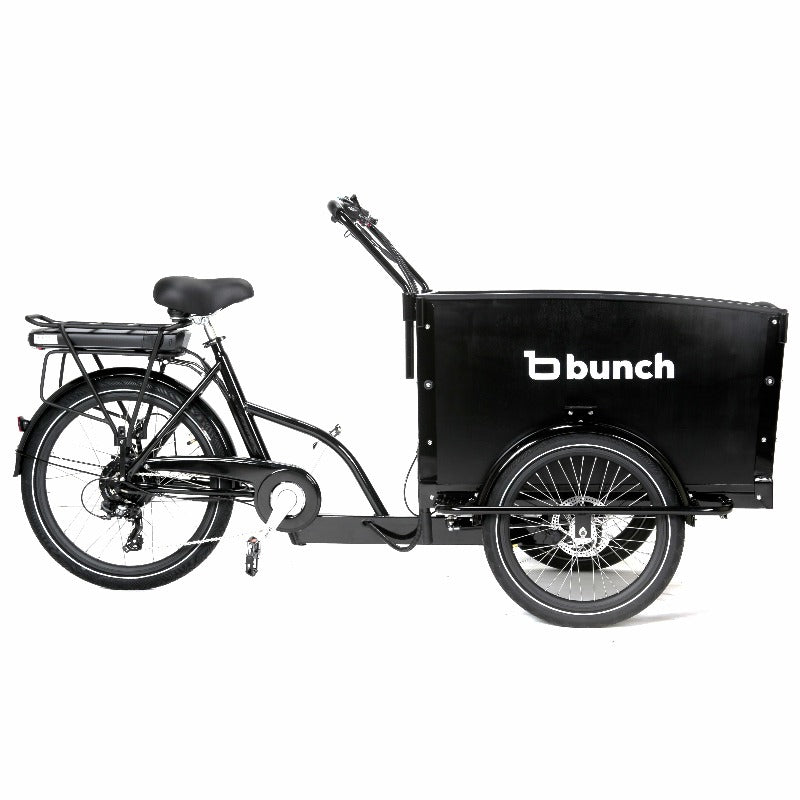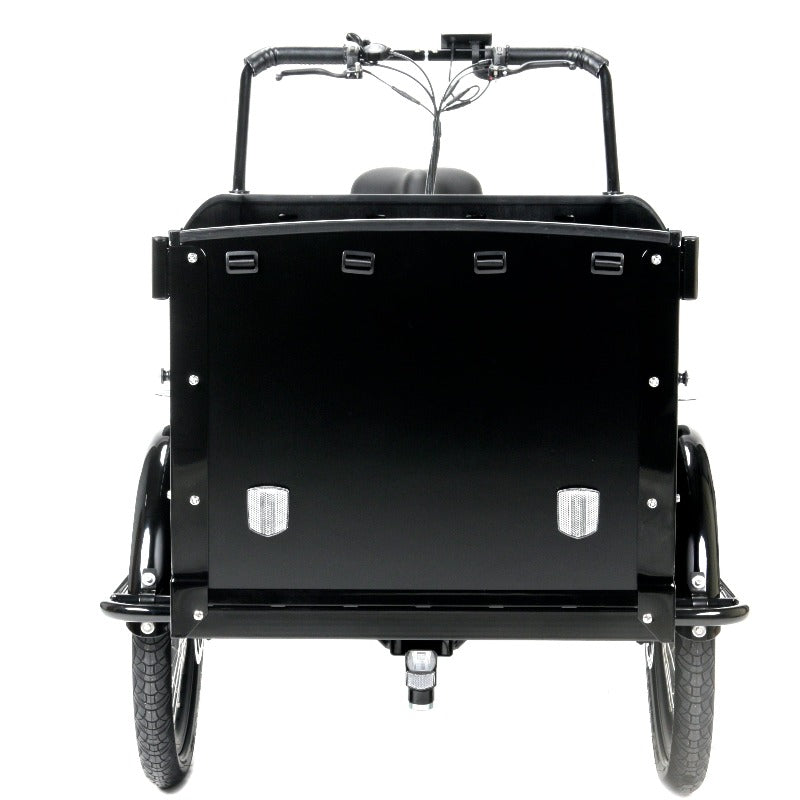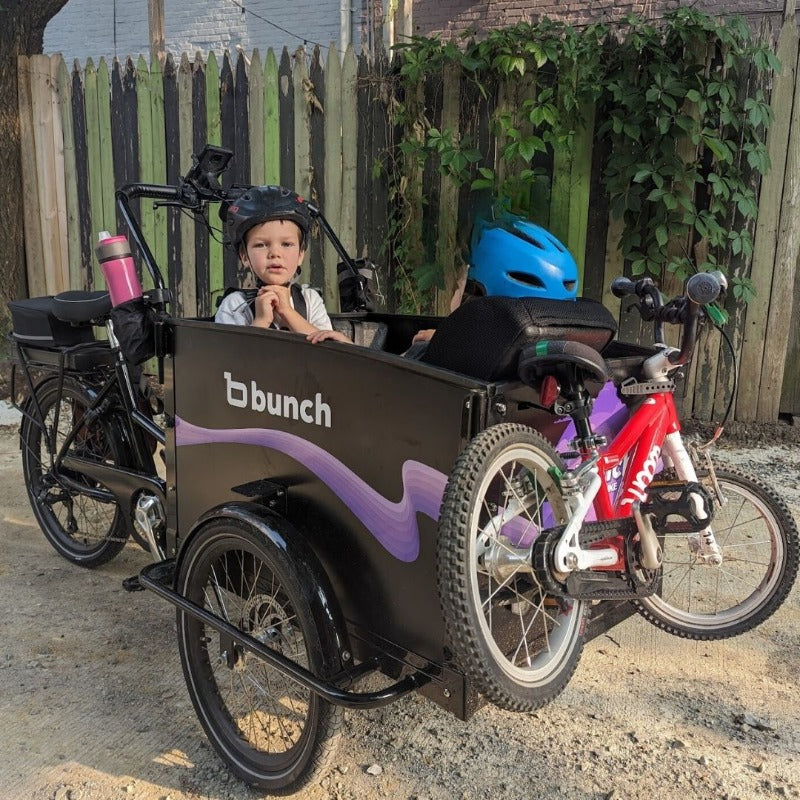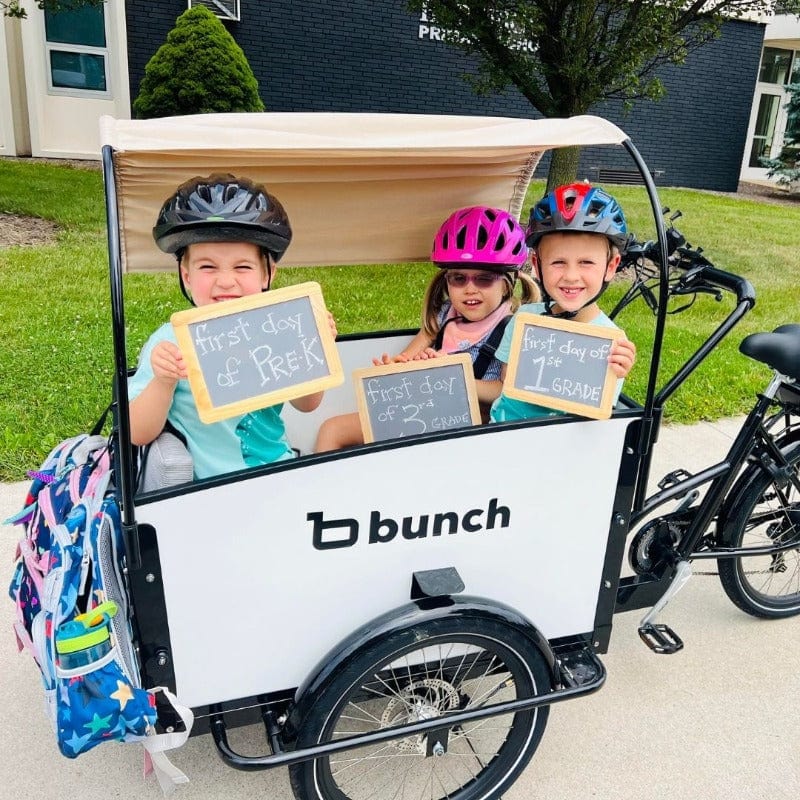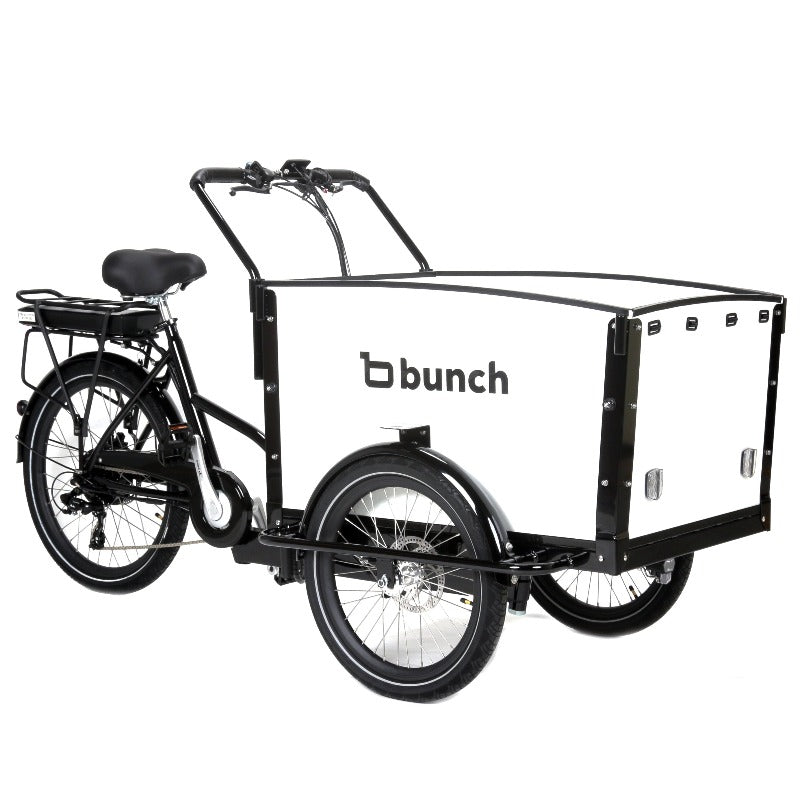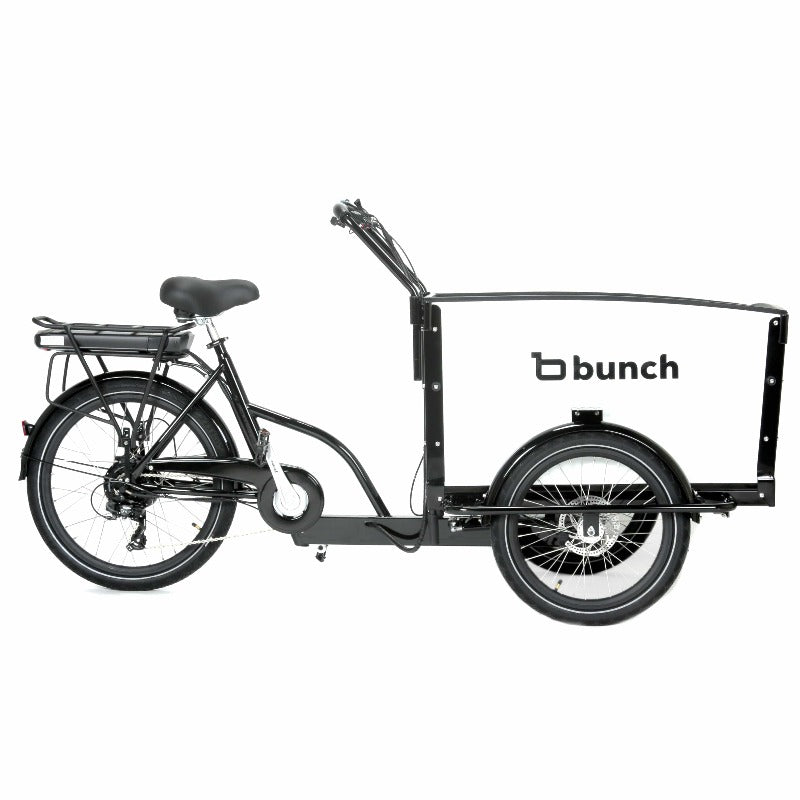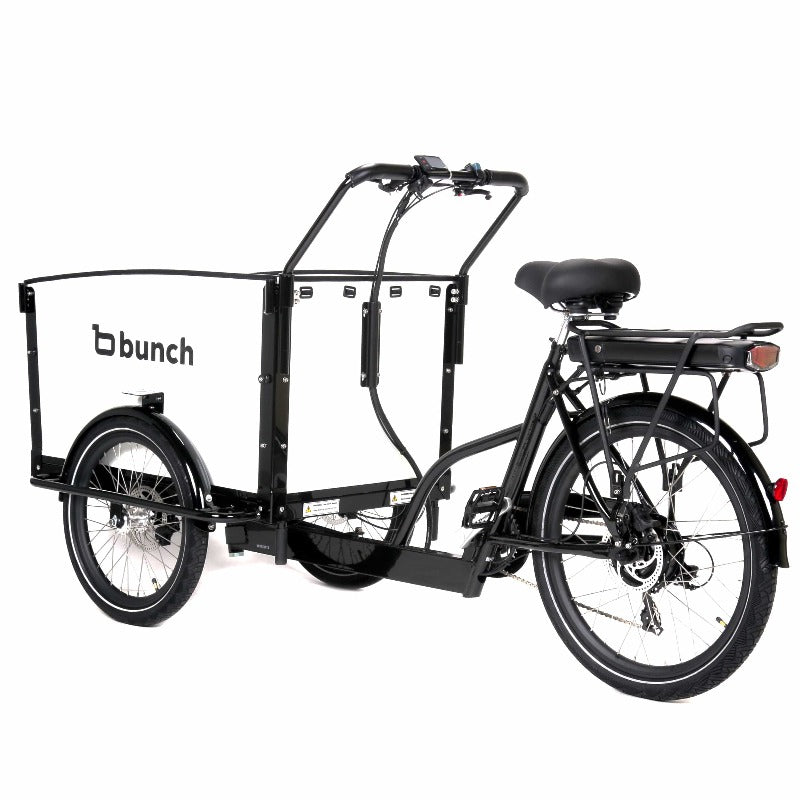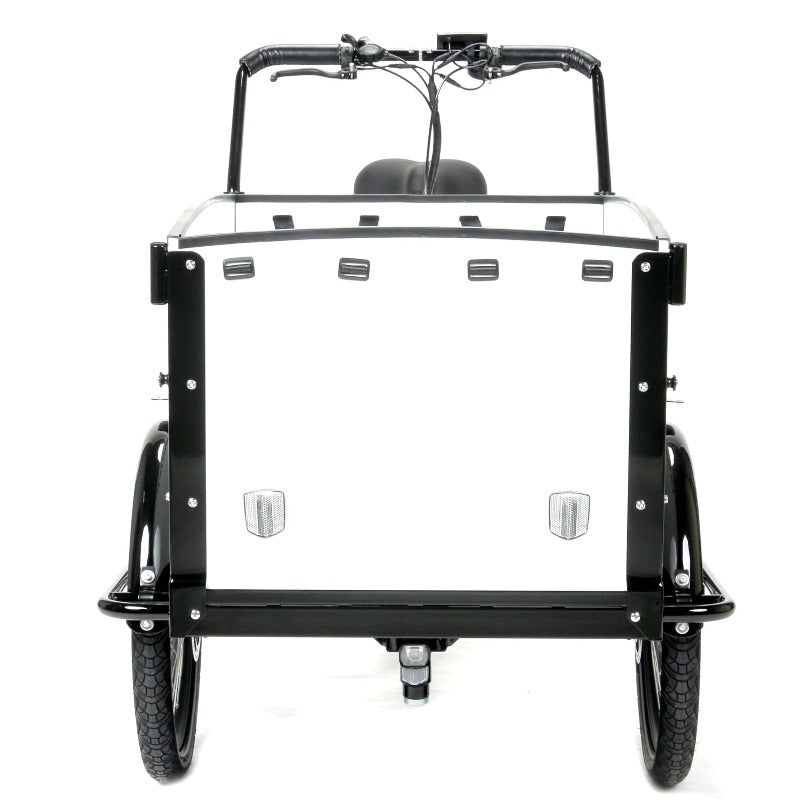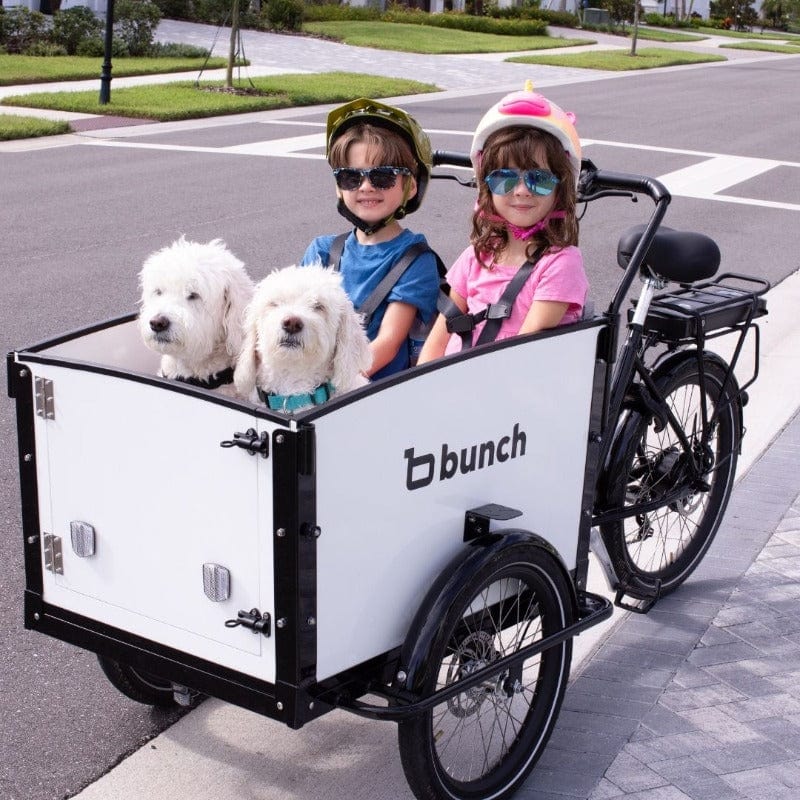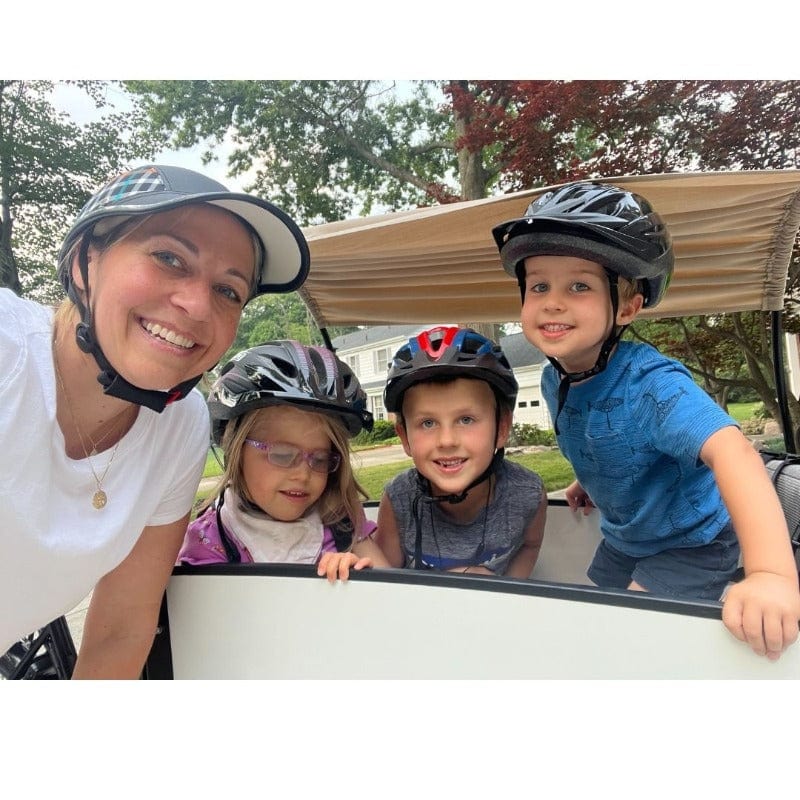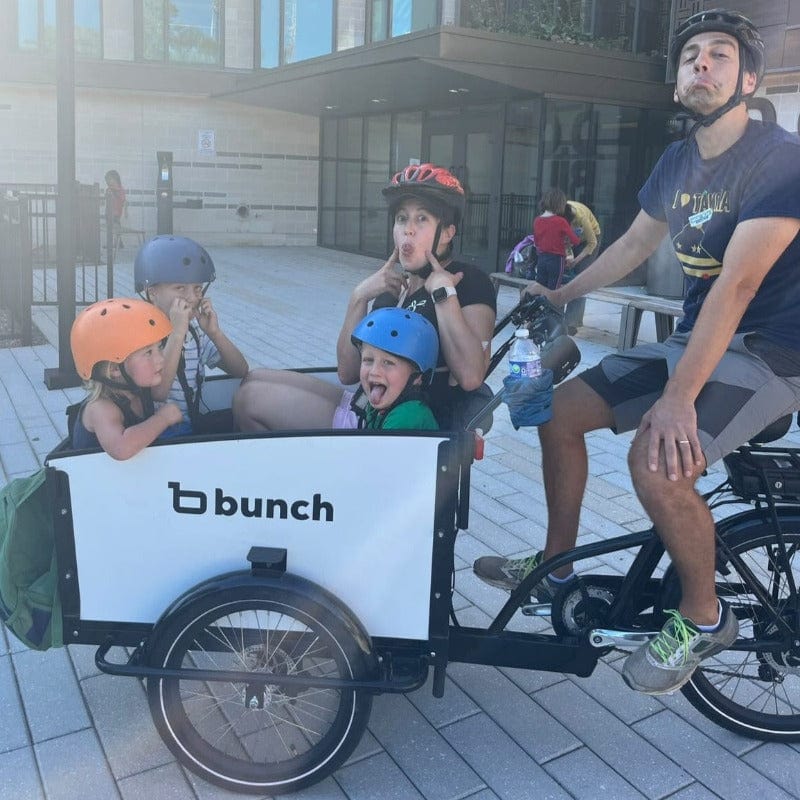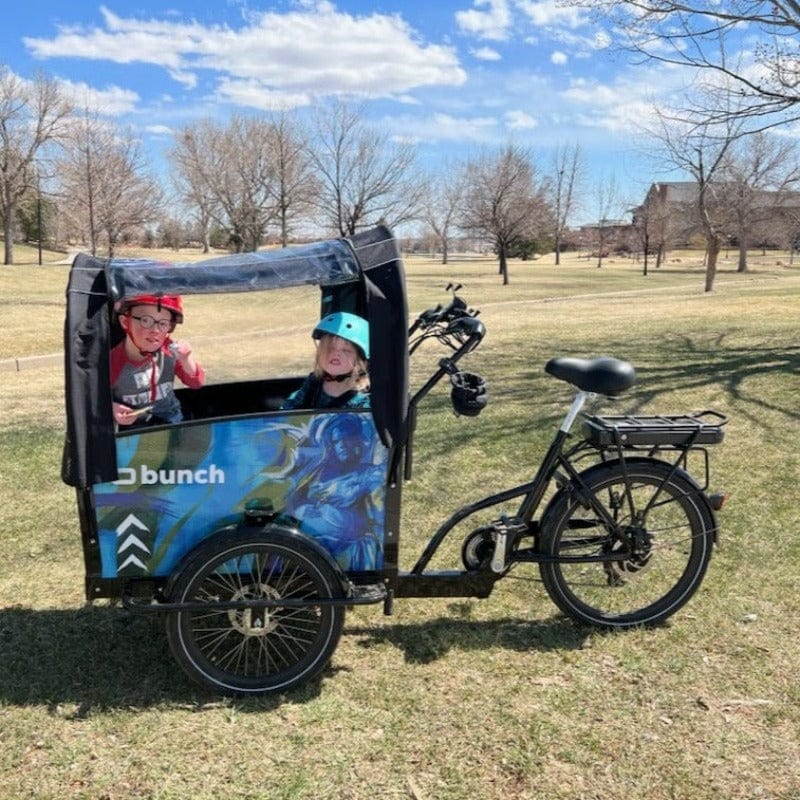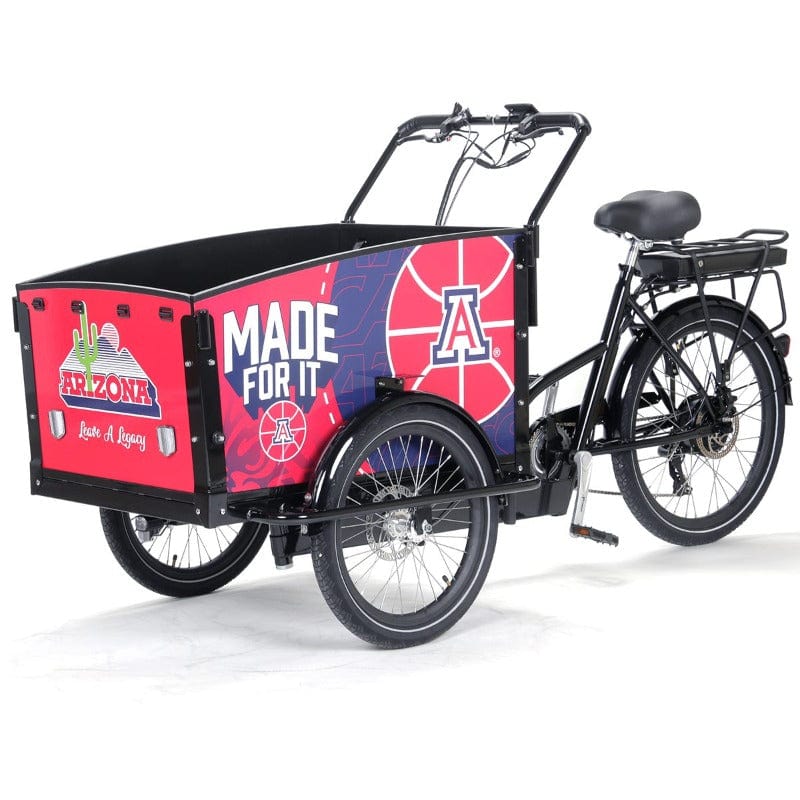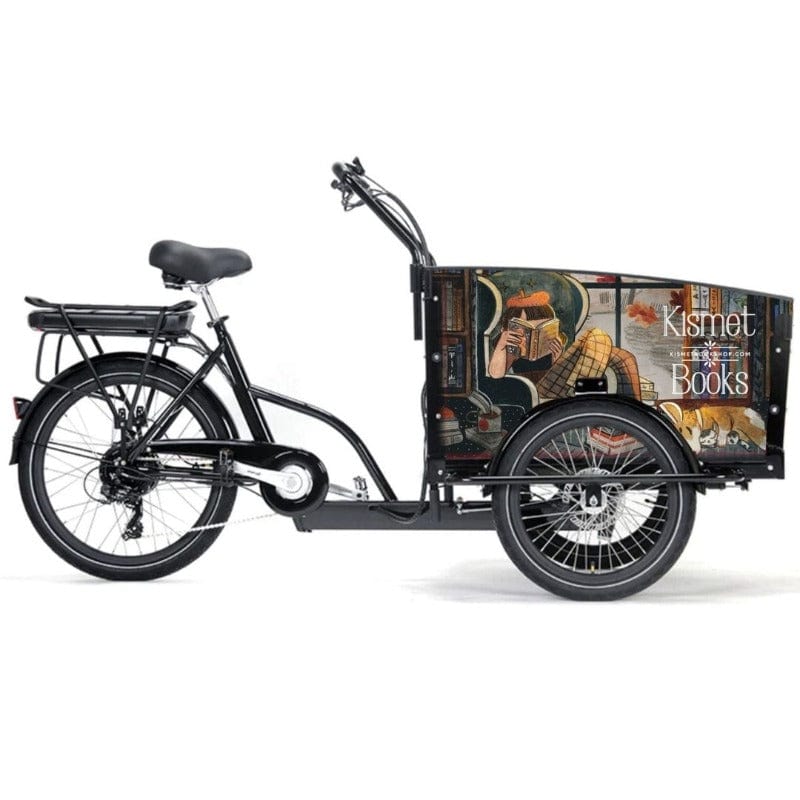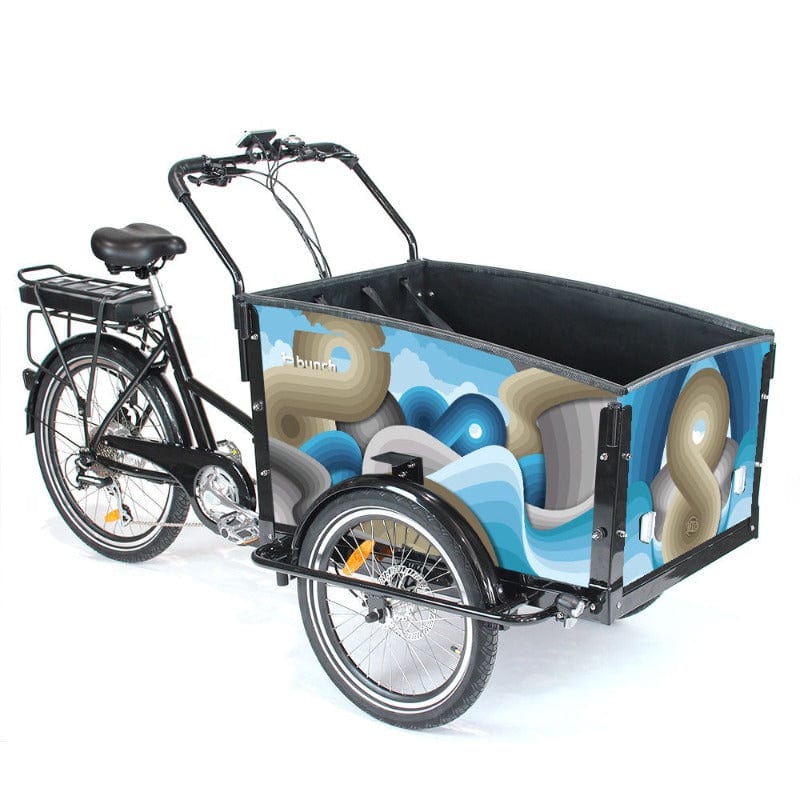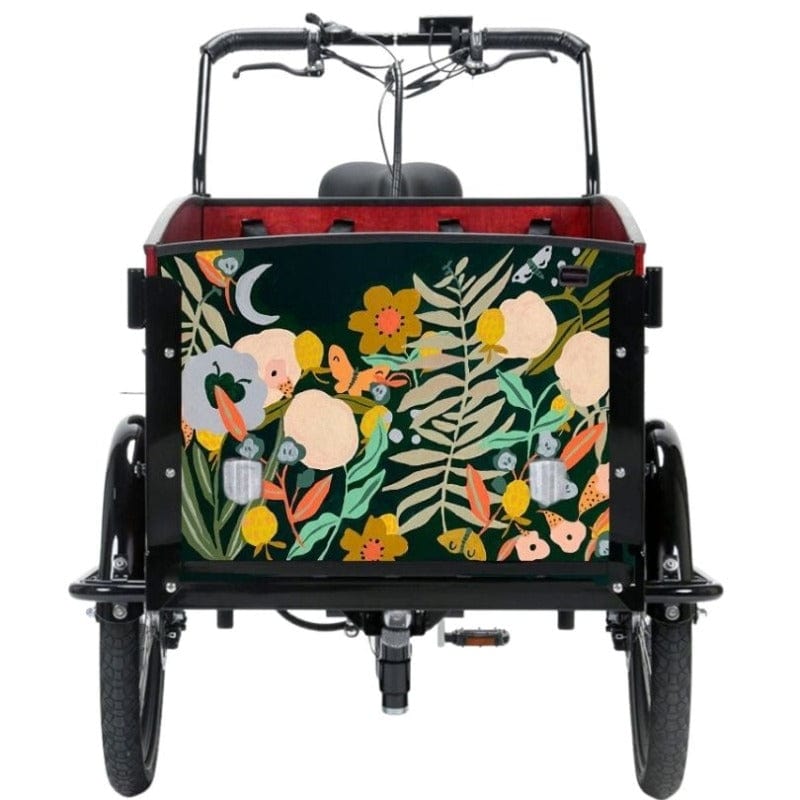 The Original 3.0 - Electric Cargo Bike
Our Holiday Glow bundle is available thru Dec. 25! Order by Weds., Dec. 12 to guarantee delivery by Christmas day.
Skip the traffic. Soar past the carpool line. Forget finding parking. Fill up on giggles, not gas. It's the school running, kid hauling, grocery getting, beach cruising, life changing fun machine from Bunch Bikes!

We're proud to introduce the Bunch Original 3.0: Updated components on our flagship model, including improved display and controls, more comfortable saddle, flat-resistant tires... and those long-awaited color and customization options!

Transform your daily routine into a joyful outdoor adventure. With super easy steering and a powerful electric assist, the Bunch Bike makes your family life easier, more sustainable, more accessible, and more fun.


Shipping: $199. Arrives Fully Assembled

Bikes in stock will arrive within 2 weeks in the US - 3 weeks in Canada.

Sedona and Honey are high-gloss lacquer finishes that highlight the natural woodgrain.

Cool Black and Sleek White are premium paint finishes that create a uniform semi-gloss appearance without visible woodgrain. 

Custom Design: Create a showstopping custom look and highlight your brand, your organization, or your family's unique style. Learn more about pricing and options here. We also offer a range of artist collaborations.
The Original 3.0 offers a full front bench and rear bench for 4 total seats with seatbelts provided.

Bench tops slide open to create lockable storage space. Benches are readily removable for maximum layout flexibility.

Most typically abled children aged 2+ can use the side steps to climb into the cargo area. A front door option is available for passengers with mobility needs or families with very large dogs. The front door layout leaves 2 seats available on the rear bench.

We offer a range of adaptive seating options as well. Please contact us to learn more about the best layout for your family!
Every Bunch Bike comes with our 12 month warranty. Your bike is guaranteed to work perfectly for you! If you run into problems or defects during the warranty period, we will cover both parts and service to get your bike running smoothly for you. You can read more about our warranty here.

You can also purchase optional extended warranty coverage through Mulberry.

 We want you to be able to try your Bunch Bike risk-free. All new Bunch Bikes come with a 14-day free trial period, beginning the day you receive your bike. If the bike doesn't work for you, let us know. We'll arrange for your bike to be returned to us and you will be eligible for a 100% refund, including shipping costs.

 We pride ourselves on exceptional customer care. We want your family biking experience to be fun, safe and stress free! Please check out our reviews for feedback from our customers about the Bunch Bike experience.
Battery: 48v 13.6Ah Li-ion - 653 Wh,Samsung 35E Cells

Battery Charger: UL Certified, 48v 2A Smart Charger

Brakes: Tektro Hydraulic Disc Brakes, 160mm Rotors

Cargo Box: Marine Plywood with locking storage benches

Chain: KMC 27

Crankset: 38T, 170mm DAPU crankset with magnet speed sensor

Derailleur: 7-Speed Shimano Tourney

Fenders: Included, black steel front and rear, full coverage

Freewheel: Shimano 7-Speed

Frame: Steel - Black CNC painted, ED rust-proof internal coating

Grips: Comfort EVA foam grips

Handlebars: Alloy, Height adjustable by 8.5"

Lights: Front - XC-297E LED light, Rear - Spanninga Lineo - integrated in battery case

Motor: 500W brushless, DAPU M155 Geared Hub Motor, 45 Nm of torque

Pedals: Wellgo K79 with reflectors

Rims: Samson, double wall, alloy, (36H front | 36H rear)

Saddle: Bunch comfort saddle - black

Seat Belts: Four 3-point seat belts included

Seatpost: Promax, 28.6mm x 350mm

Seatpost Clamp: Promax 319Q, quick release

Shifter: Shimano Tourney 7-speed

Spokes: 12-gauge stainless steel

Steering Damper: Single gas-spring damper

Rear Rack: Included, 66-pound load limit, integrated battery rack

Tires: CST C-1635, Front - 20" x 2.15" | Rear - 24" x 2.00"

Throttle: Wuxing 108XL side-pull thumb throttle
Recommended Rider Heights:

5'4" - 6'5" - On standard equipment

5'0" - 5'3" - Let us know so we can customize the seat height

Seat Height: 29.5" - 39.5" (measured from bottom of pedal stroke)

Handlebar Height: 43" - 49"

Total Length: 83"

Width at Widest Point: 33.25"

Handlebar Width: 24"

Usable Length of Rear Rack: 14"

Rear Rack Capacity: 55 lbs.

Total Loading Capacity of Bike: 350 lbs.

Max Loading Capacity of Cargo Area: 220 lbs.

Bike Weight: 152 lbs.

Seatpost Diameter: 28.6 mm

Cargo Box Internal Width: 23"

Wood Thickness: 0.5"

Cargo Box Internal Length: 35.75"

Cargo Box Height: 18.5" at the front to 22" near the handlebars

Height of Benches from Floor: 9.25"

Depth of Benches: 9"

Height from Ground to Floor of Box: 15"

Distance between Front Wheels: 29" (center to center)

Distance from Rear Wheel to Front Wheels: 73" (back edge of rear wheel to front edge of front wheels)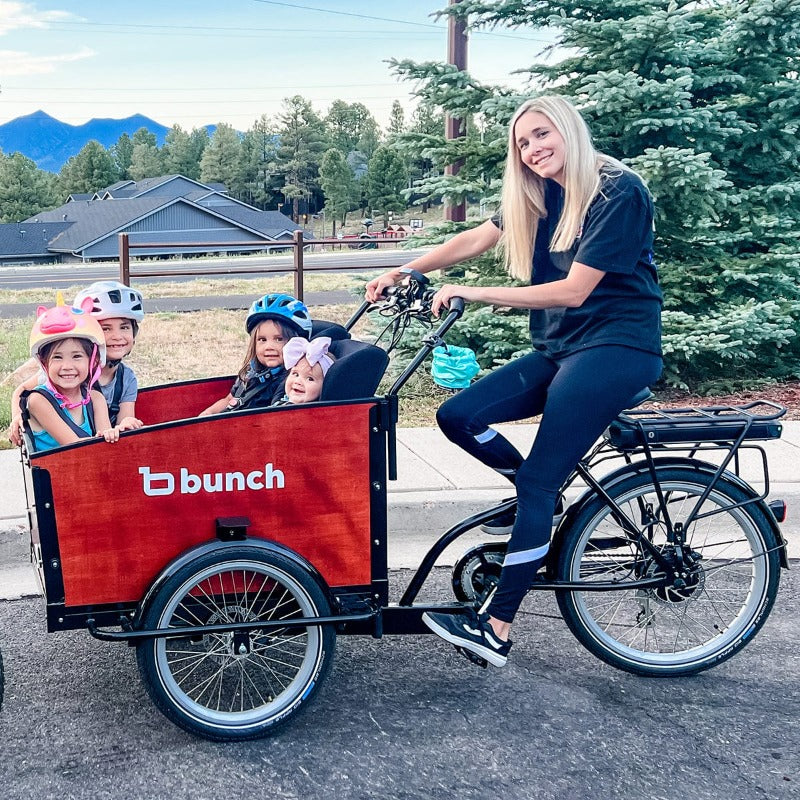 Why Bunch?
Learn what makes our bikes unique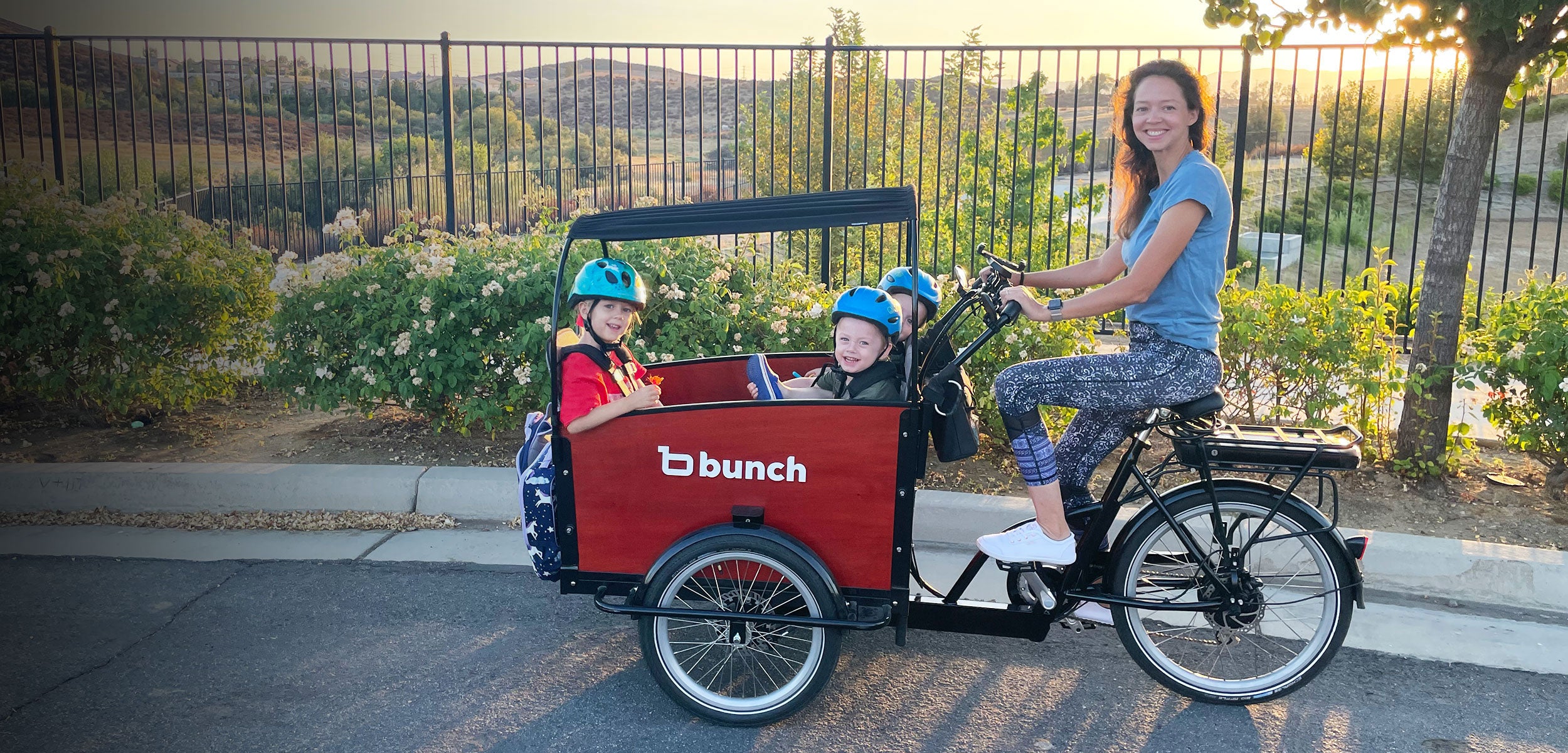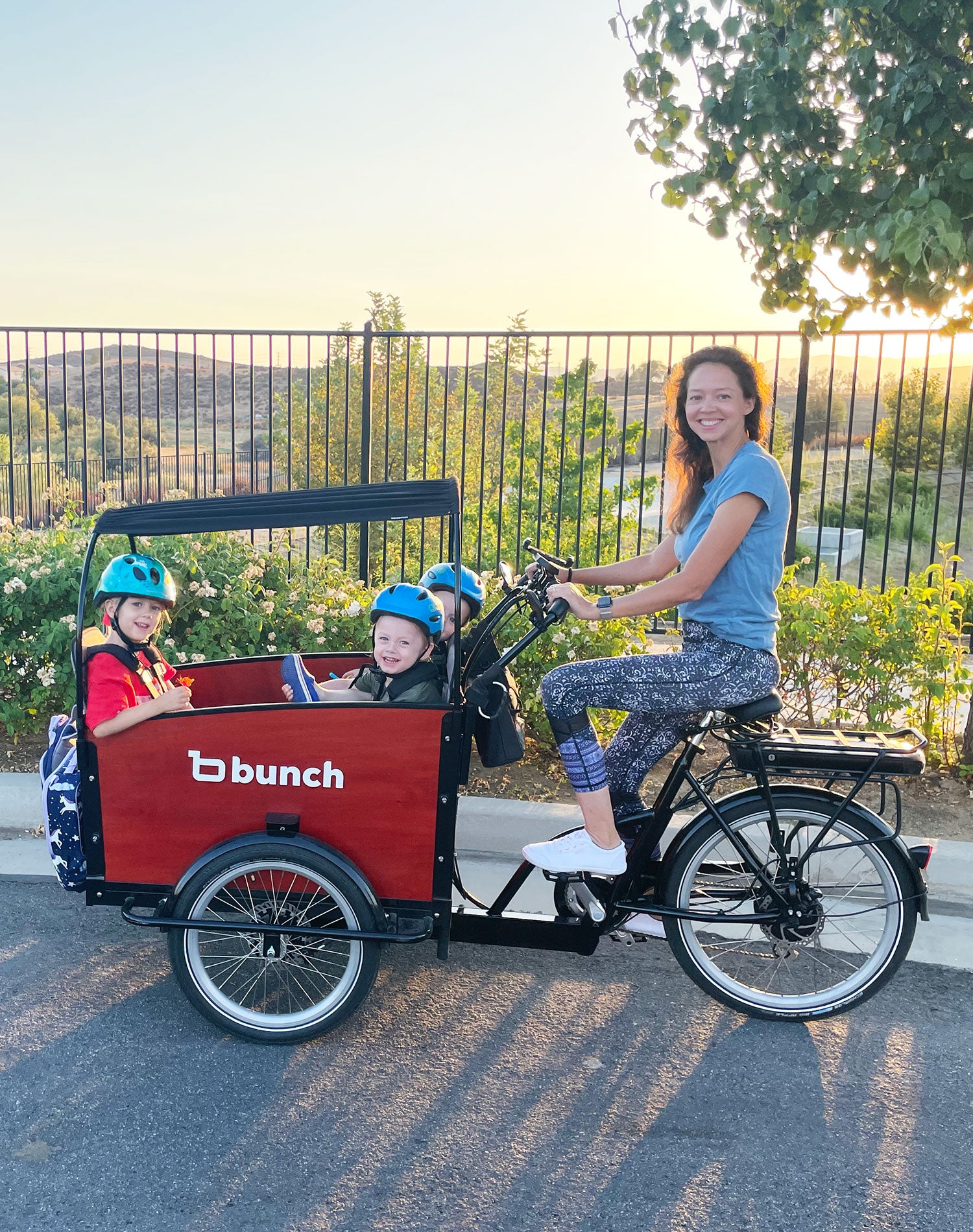 Trike Stability
Three wheels make the bike easy to start, stop, and handle, even for beginners.
Kids in Front
So you can talk, laugh, sing, and enjoy the ride. Seatbelts included!
Powerful Electric Assist
With 500w of power, your family will soar - even uphill, even fully loaded!
Our Community
We're proud to take exceptional care of our Bunch families. We're here to make your bike life easy, accessible, and fun!
Safety First
We use quality components and build and test each bike in our warehouse in Texas. That's how we ensure safety for our kids - and yours.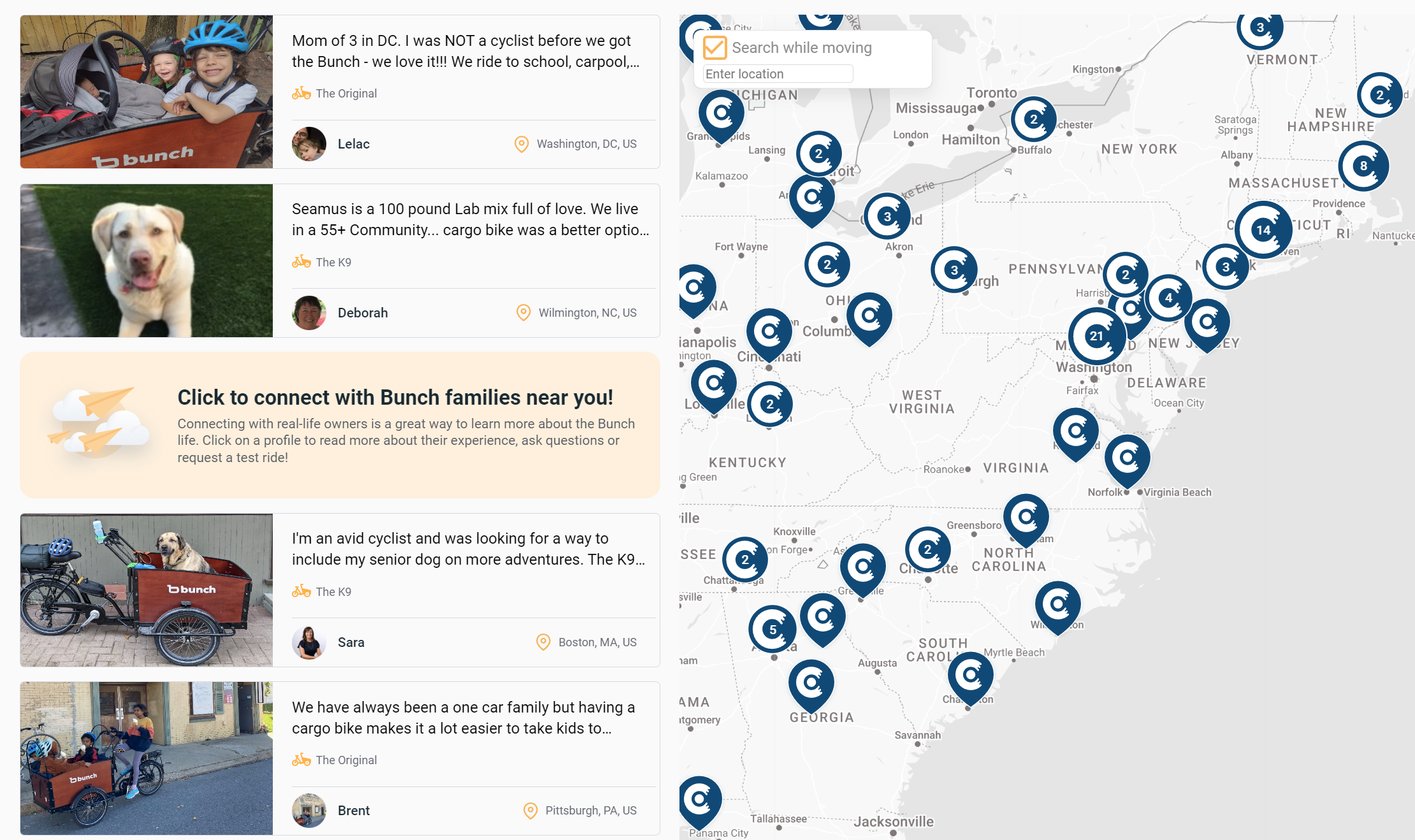 Try Our Bikes
Meet a Bunch Squad member in your community to test ride a Bunch Bike in person
Find A Test Ride
Everything you'll need to get rolling
Upgrades & Accessories
Our team members that have been assigned the bunch bikes have enjoyed using them, the bike make getting around our campus much easier.
Hey Cody, thank you so much for sharing your feedback. We love to see the corporate world 'walk the walk' on sustainability and mobility! It's great to see all the different ways and places that a cargo bike can replace a car - or a golf cart, or a Gator - for getting things done.
- Aaron @ Bunch Bikes CEO
So much fun!
I love my bunch bike! I use it to take my 3 boys around! They love to ride in it and it is so much easier than loading them up in the car. If you are on the fence you should definitely do it!
Hey Katherine, this is great to hear. It's true, not having to wrestle the kids into car seats is one of the best bike life advantages! Thank you so much for taking time to share your experience with other folks who are still early in the process. It's a big decision and a big investment so hearing from other families who are living the Bunch life helps a ton!
- Aaron - Bunch Bikes CEO
Overall definitely worth it, even if my bank account questions the price
If your life is walkable, but every walk is doubled in length of time because of kids, this bike is game changer. The bike is perfect if you multiple children under the age 8-10. It's great for going to a friend's house on the far side of town and for school drop offs. Time wise for myself, its about the same time for me to bike alone comfortably on a non electric bike when the bunch bike cargo is loaded up with 3+ kids and going a safe/comfortable speed with precious cargo. I definitely prefer it over using a traditional trailer with kids. It's a super fun and easy way to get around with the bunch bike. I wish we had gotten it sooner.
Hey Laura, thank you so much for taking time to share - sounds like you and your kids are getting a lot of daily use and fun together! We know the bike is a big investment, we hope the value it brings makes it worthwhile for your family, now and in the long term. Definitely an upgrade over the trailer!
- Aaron @ Bunch Bikes CEO
Bunch made it easy for us to love cycling again
When our daughter outgrew her one-wheel tag-a-long bike, we were stuck without a good option for biking, and that was a sad time. Problem-solving for her needs took a long time and we ended up picking Bunch Bikes over all the local options in our area (Portland, Oregon). Bunch had the configuration we were looking for and were super helpful in getting what we need. We are back to cycling as a family again and loving it. Thank you, Bunch, for your inclusion program!
Hey Ryan, that is great to hear. 'We are back to cycling as a family again' is the best review we could ever get - that's the vision and purpose of our inclusion program! We're here to make bike rides more accessible for kids with a wide range of needs. Thank you so much for taking the time to let us know. Glad you have many happy rides together ahead of you!
- Aaron - Bunch Bikes CEO
Life Changer
Almost 400 miles in a month of use. We love our Bunch. We use our Bunch daily for school drop/pick up, play dates, park visits, grocery shopping, cargo moving, date night with the hubby. You name it, we bunch it. We were already a very dedicated bike family, but the Bunch is just so easy to use and pile in that it has made us even more bike-y!
Hi Brooke, WOW! 400 miles in the first month might be a record. Quite an accomplishment! It's a special honor to be able to add something valuable to the lives of families who are already biking - but need an option that's bigger, more flexible or just plain easier. I'm so glad you're loving your 'even more bike-y' bunch life!
- Aaron @ Bunch Bikes CEO
Great bike, but wasn't right for us!
The customer service was incredible, as I'm sure every review says! We already had one longtail electric cargo bike, and wanted to see about adding this to our collection for a second bike. I sometimes feel unsteady on the longtail, and was intrigued by being able to throw more crap in the bucket, and by the stability of a trike. It WAS way more stable at low speeds, but I actually felt more stable on my longtail at high speeds. We go longer distances where we live (ie 4-5mi one way to school), and it is really hilly (not Bay Area, but a lot of up and down). We like to go a little faster (I'd say 12-20mph). For us, the Bunch just wasn't the right fit. It was much slower than our longtail, so on family rides, someone tailed behind. It also really struggled on hills in comparison to the longtail, which makes sense! More weight. I thought I'd be able to fit way more junk, but I actually realized I can fit the same amount if not more on my longtail, and it involves about the same amount of thinking/planning about where to put stuff. Great bike but not the right fit for everyone!
Hi Kate, thank you so much for taking the time to share your honest feedback. We think it's incredibly helpful for other families to get to think through the pros and cons. It's not going to be the right fit for everybody!
This is exactly why we offer that 14 day return policy - we were glad to refund your purchase and find your (former) bike a new home. We're here to help folks find the right bike for their families. Even when that right fit isn't a Bunch Bike!
- Aaron - Bunch Bikes CEO
Life changer!
I have a 3 year old and a dog that's 10 (but still going strong). Got this a month ago and it has changed our life. We have a 7 month old too and got the toddler seat and will get him in there soon too. I'm quite confident that in 30 years if someone asks me: If there was one product purchase that you'd call the best, what would be be? Hands down I'll say the Bunch Bike.
Hey Andrew, thank you so much for taking the time to write. What a fantastic review! We're proud to be your favorite purchase and part of a great new routine for your family.
- Aaron - Bunch Bikes CEO
Everyone loves this so much!
The kids and I love this so much! It works so well with a newborn and 2 older kids. It's a good thing the baby will be out of the carseat soon, my oldest is almost out of leg room. But they don't care - they want to go on bike rides every day!
Love this so much! So glad to see you getting your life done on the bunch bike, baby included!
- Aaron @ Bunch Bikes CEO
Best purchase!
We absolutely love our new Bunch Bike!
Absolutely the best decision I ever made!
We sold one of our cars and invested in a bunch bike. Our weekend adventures are so much fun! Our tiny humans and fur babies LOOOOVE IT! Especially where we live in Colorado there are trails for days and plenty of places to explore. If you are thinking about it I HIGHLY recommend!
Hi Katie,
Thanks for sharing... I'm so glad to hear that you guys are loving the bike so much. My family has explored so many more corners of our city with our Bunch Bike than we ever would have without. I hope you guys make years of memories with your bike :)
- Aaron - Bunch Bikes CEO