Diary of a Bunch Bike Saturday
Take a peek into the daily life of Washington D.C. Bunch Ambassador Lelac Almagor
By: Lelac Almagor   June 22nd, 2020
---
Back in the olden days of 2019, when people still went to school and to work, we were putting forty miles a week on our Bunch just getting around Monday through Friday -- usually rushing around at max speed with the lights on and the e-assist turned all the way up.
Weekend riding is different. We can take our time, make lots of little stops, let the Big Kid out to ride his own bike and then put him back in when he gets tired. Even in the pandemic, the Bunch has let us hold on to our favorite parts of that routine. Here's what it looks like nowadays:
8:00 Breakfast! Big Kid wants pancakes. Again. Not gonna lie, so do I. Kids and I make batter, Daddy flips.
9:00 Load up for the morning. In the bike:
Big Kid (age 5)

Little Kid (17 months)

full compost pail

empty compost bucket

raincoats and Bunch rain tent (stowed under the bench just in case)

picnic blanket

diaper bag

three metal water bottles

my backpack of snacks

Big Kid's backpack of sticks (WHY)

and one especially important stick of honor.

Big Kid's 16" bike is on the front rack, added by our friendly local bike wizard Kyle Waller at ElectriCity Bikes. No sweat! Battery is fully charged and we're cruising.
9:15 Swing by a friend's house to pick up her compost from her doorstep -- that's what the empty bucket is for. She comes to the door and we chat for a minute or two, but the kids stay in the bike making faces at each other because we're running a few minutes late. As usual.
9:30 Head to Langston Park, where The Capoeira Spot has been holding outdoor socially distanced kids' classes. To save time, I ride straight there on the roads rather than going the long way around via the Metropolitan Branch Trail. If there's no bike lane, I center myself in a traffic lane -- the Bunch is so big and visible that drivers usually have no trouble treating me like a car and giving me plenty of space when they pass.
There's one roundabout that I don't like, because we'd have to cut across several lanes of traffic to turn left; in that spot, I hop onto the sidewalk, pretend I'm a pedestrian, and cross at the crosswalk.
9:30 Capoeira class! Each family gets a 10x10 square marked off with cones, ten feet away from the next family. It's a little awkward but being in community again, in person, feels AMAZING.
The bike racks are on the far end of the field and I don't feel like carrying all our stuff, so we ride up on the grass to just outside the class area. That way I can leave our stuff in the bike and use it as a base camp.
10:15 Class is over but it's a gorgeous day, surprisingly crisp and breezy for June, so we set out our picnic blanket and stay at the park to play for a while. Little Kid gets a diaper change right in his Melia seat in the bike. It's easy on my back, and he's used to it. (-:
11:00 Bike to the city compost dropoff at Brookland. Roll up to about ten feet away, hit the parking brake, put my mask on, leave the kids in the bike to empty our pail and our bucket.
Lots of comments at this stop! "Wow, sweet ride!" "Is that a bike on your bike?!" "Kids, look at the big bike!" "Gonna give me a lift?" (This from a guy who's carrying a heavy bucket of something -- I offer to haul it up the hill, but he laughs and says he's got it.)
11:15 At the head of the Metropolitan Branch Trail, I take down Big Kid's bike. He hops out of the Bunch and rides in front of me all the way home. He's gotten surprisingly fast in the last few months. Is it cheating if I crank up the e-assist to keep up with a preschooler??
Ninety seconds after Big Kid gets out of the Bunch, Little Kid falls fast asleep. Lately the bike is the only reliable way to get him to nap. One really bad pothole makes his eyes flutter open, but he's back out by the end of the block. Whew.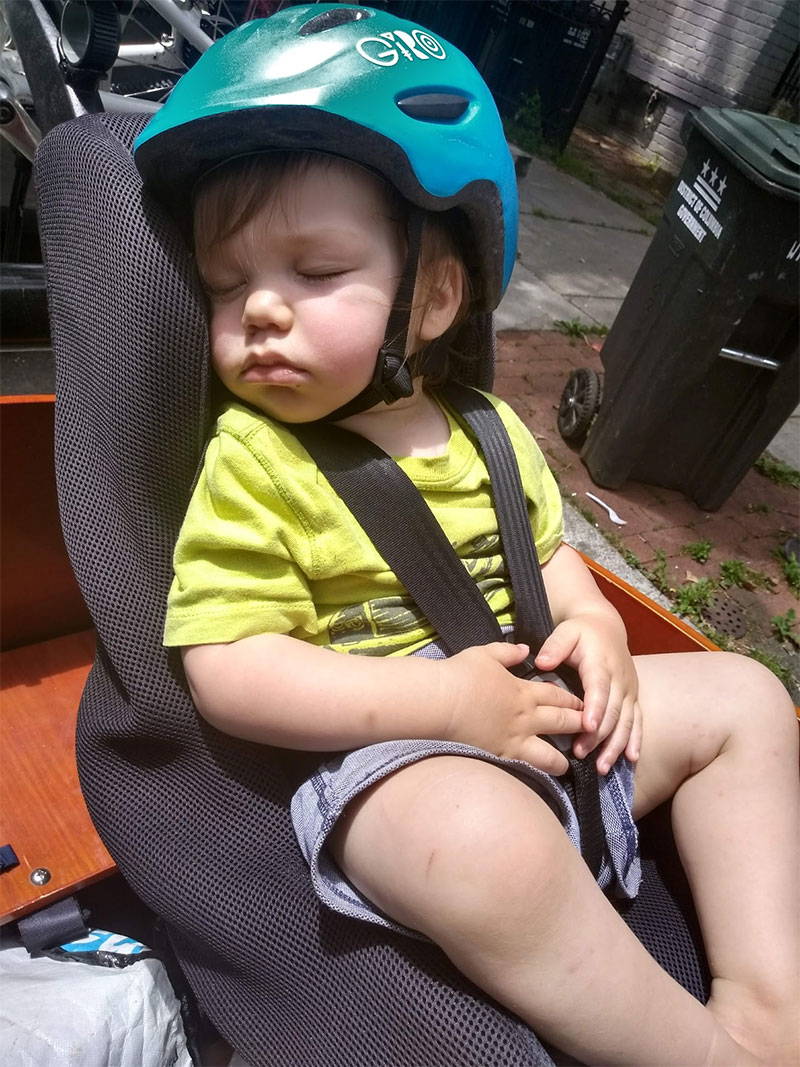 11:45 We text that we're on our way home, so when we pull in, Daddy comes out to the Bunch to get Little Kid while Big Kid and I are still taking shoes off and washing up. Daddy is the MASTER of nap transfers; Little Kid is asleep in bed by noon.
12:00 Lunch, quiet time, Legos. We leave most of our stuff in the Bunch because we know we're going out again. I go online to order milk and veggies for curbside pickup in a few hours.
2:30 Load up for the afternoon. It's a little hotter but still gorgeous, and we're planning on family time outdoors. In the bike:
Big Kid
Little Kid
rain stuff (stays under the bench -- looks like we won't need it today)
diaper bag
water bottles
canvas grocery bag with two empty glass milk bottles
picnic blanket
snack backpack
stick backpack (STILL)
Daddy's backpack
soccer ball
baby ball
empty yogurt cups for dirt play
Big Kid's new kite
Big Kid's bike goes back up on the front rack.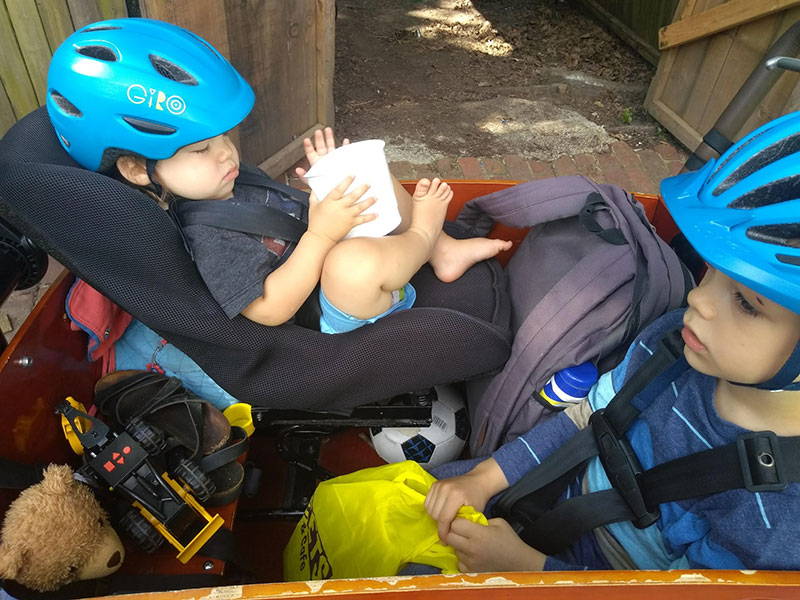 Different day, slightly different stuff assortment, still looks like the backseat of a minivan
This time Daddy comes along on his own (non-electric) bike. We like to whoosh past him when he's puffing and sweating up a hill…. but we always wait for him at the top.
2:45 We swing by the library, which recently opened for curbside pickup too, but the line is super long and we decide not to wait. This is probably for the best; last time we did library-then-park, Big Kid decided he had to read all of his new books right away and refused to get out of the Bunch.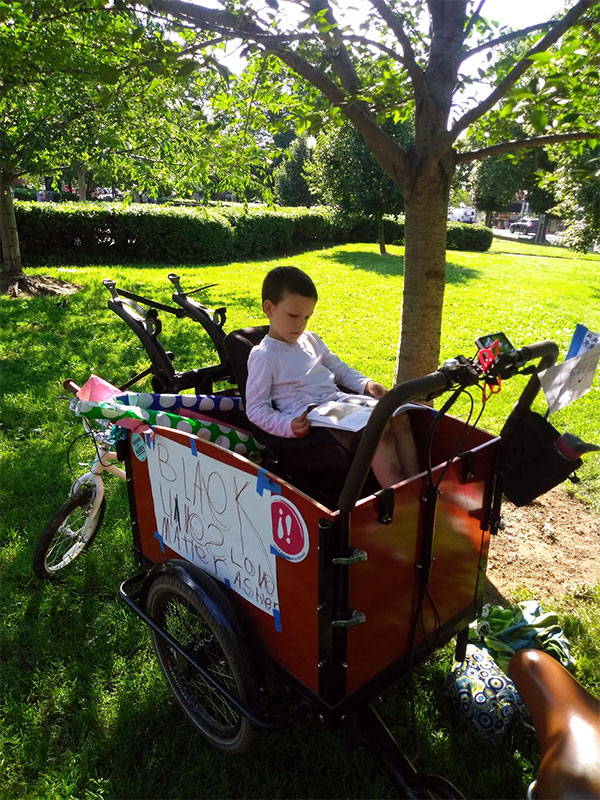 (Yes, that's Big Kid relaxing in the baby seat…)
3:00 We're on our way to a tiny nature preserve that's our favorite oasis in the city. The entrance is through a secret gate (not actually secret, but we like to pretend!) that's tucked behind the RFK soccer stadium.
The stadium parking lots are huge and currently closed to cars… so Big Kid hops onto his own bike and we all goof around for a while, racing up and down, making donuts, and playing tag. Little Kid points and hollers and waves his arms every time he spots Big Kid flying past.
3:30 Kingman & Heritage Islands Nature Preserve. This time we do lock up our bikes because we'd like to walk all around the islands. There's a big rack at the base of the path. I try to pull up on one end so I'm not blocking multiple spots. The Bunch frame has good "lock points" at the very front, on the sides of the box, and at the center, so I can always find a way to make it work.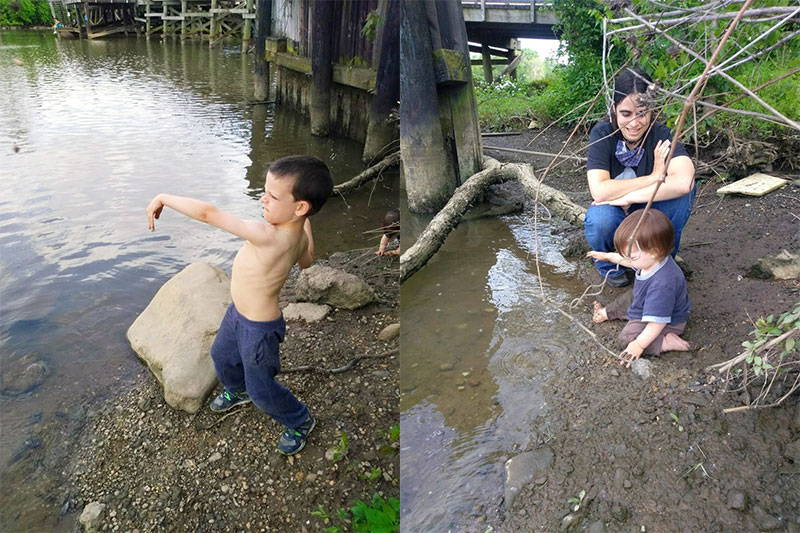 Kingman & Heritage Islands, our happy place.
I use a heavy Kryptonite chain we ordered from Bunch, so I feel like I can walk away for the afternoon without worrying -- especially in this well-trafficked location. If someone wants to steal my bike, they'll need power tools and a couple of uninterrupted hours.
We bring the kite and the soccer ball with us but leave most of our stuff in the Bunch, stuffed under the benches. There are short, kid-friendly hiking loops and a huge grassy field to run around in. On the way back to the bike, we stop to throw rocks in the river for a while. (photo)
5:00 Time to start thinking about dinner plans. Big Kid's bike goes back on the rack -- he's too tired to even ask about biking himself home. We pack up two muddy, sweaty kids who both snooze a little once we're rolling.
On the way home, we stop at Streets Market for our curbside pickup. I call from just outside their doorway: "Hi, it's me with the big bike." I put my mask on and the clerk and I do our little dance. I drop the canvas bag of empty milk bottles; he drops a canvas bag of groceries; we circle each other to pick up without contact.
5:30 Park the bike for the night. Our row house "backyard" is about the size of a typical car parking space. We stuck a sheet of corrugated plastic on some posts back there and called it a bike shed. Cheap u-locks sunk in concrete make great anchor points for the Kryptonite chain. Good night, bikes!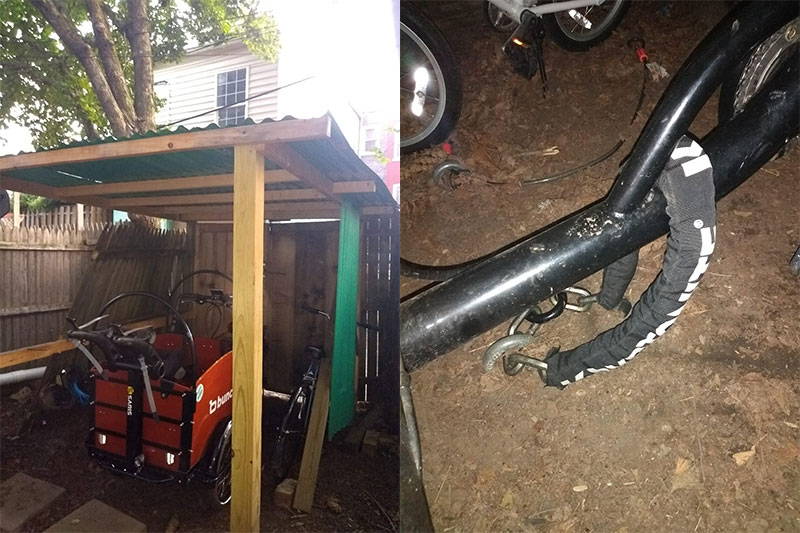 Extremely makeshift bike shed.
This was a busy day for our family, but such a joyful one.
Instead of driving from place to place, we were outdoors feeling the breeze and waving to neighbors and their doggies.
Instead of sitting, we were moving -- I've put in 90 minutes of low-key exercise just getting us from place to place.
Instead of reaching behind me to try to keep a fussy baby happy in his car seat, I've been looking right at him, singing with him, pointing at trucks together, and rocking him side to side in the box if he gets cranky at red lights.
Instead of hunting for parking, we pulled up onto the grass.
We agonized for a long time over the decision to buy a Bunch. I'm not an athlete and wasn't much of a biker, and the financial commitment was a big one for us. But now that we've stopped spending huge chunks of the weekend in the car, we're so glad -- and we would never ever go back.
See you out there soon!
Lelac and Family
If you live in the D.C. area, you can contact Lelac for a test ride at washdc@bunchambassador.com
If you are a Bunch Bike owner and want to become a Bunch Ambassador, let us know!